You're Probably Installing Your Car Seat Wrong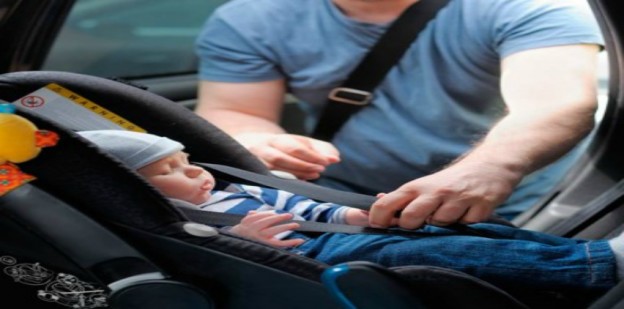 October 18, 2015 | Categories: Pregnancy & Parenting
There's a good chance you spent a few hours researching car seats for your baby, but did you factor in car size and seat angles? When scientists from The Ohio State University College of Medicine checked compatibility between 61
To make sure this doesn't happen to you, lead study author Julie Bing, a research engineer at Ohio State College of Medicine's Injury Biomechanics Research Center, has these savvy shopping tips and safety advice based on what she learned.
1. Research the car seat in person.
Go to the store and ask the sales clerk if you can test the floor model in your vehicle. Be realistic about the size of your car when choosing a car seat. "If you don't have a large vehicle, don't buy the biggest, bulkiest child restraint out there, even if it has all the bells and whistles and best safety ratings and fanciest-looking padding," Bing suggests. "If it doesn't fit correctly in your vehicle, that might not be the safest option for you." She says the smaller restraints are still perfectly safe, just make sure you get a fit that's nice and tight and not interacting with the vehicle in any way it's not supposed to. Then, consider how the seat will fit in each car you plan on using.
2. Visit a car seat check event.
If you already own the seat, visit a car seat check event, like those listed at SafeKids.org, and have the experts show you how best to install that model. They might show you that your car seat needs to be moved to a different seating position in the backseat, as sometimes the center seat works better than the outboard and vice versa, Bing says.
3. Read the instruction manual.
Just like you wouldn't try to put your baby's crib together without reading the directions, it's crucial to get acquainted with your car seat's manual, Bing says. The instructions will tell you what the installation should look like, if it's allowed to touch anything in the vehicle, what angle it's supposed to be at, and how tight it's supposed to be positioned in your car, she says.
4. Make sure your understand their car's installation.
Anyone who has your child in their care and will be driving them around should know how to use the car seat. Each restraint and vehicle seat combination will be a little different, so it may be worth encouraging your in-laws or babysitter to attend a car seat check event. "If a caregiver takes a car seat to a check up event, they're going to get personalized instruction on how to use that car seat for their vehicle," Bing says.
5. Be mindful of rear-facing seat angles.
"The biggest incompatibility we saw was the angle of rear-facing car seats," Bing says. Each rear-facing seat has a sticker, label or marble that rolls around, which will tell you the angle the child is supposed to be sitting at once the seat is installed. "A lot of times we found the angle of the vehicle seat didn't provide the proper angle for the child restraint," Bing says. "We discovered the child was sitting too far upright in 30 percent of the combinations we looked at." Make sure the seat is installed at the angle the manufacturer designed and tested it for so it'll provide the best safety performance. "One of the most surprising things we saw was that if this rear-facing angle was too far upright, there might be medical concerns for newborns as well as safety issues," she says. "If you have a newborn infant who can't support their own head and the angle they're sitting at is incorrect, their head can fall forward and the airway can be cut off." It's especially important to get that angle as recommended by the manufacturer, Bing says. Your best bet for perfecting this would be to have a professional look at the installation so they can make adjustments as needed.
Learn more about car seat safety on the National Highway Traffic Safety Administration's Parents' section.
This article originally appeared on FitPregnancy.com.