Meet the Yoga Instructor Who Helps First Responders Handle Stress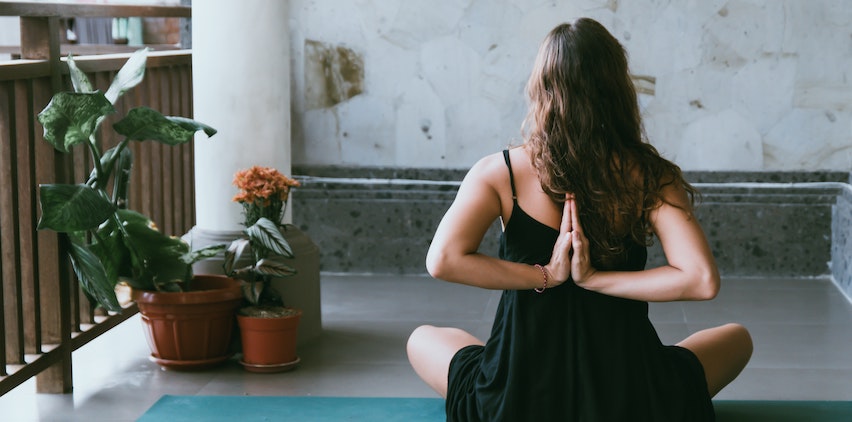 February 15, 2021 | Categories: Fitness, Mental Health
If you witnessed Olivia Mead in action at her day job, you might be surprised to see the lithe former dancer commanding a room filled with alpha males practicing breathing techniques and yoga poses. With drill sergeant-like commands, Mead, 37, instructs police officers, firefighters, emergency dispatchers and jail-based law enforcement workers through a proprietary program called Yoga for First Responders (YFFR).
"My way of teaching is a little more militant, and I think that's because I studied in India where yoga is taught as a discipline, not a trend," says Mead. Her approach seems to resonate with an audience who might not otherwise feel at home doing Savasana.  "We're not 'woo-woo.' We don't play music. We don't even put our hands into the prayer position. We do the warrior grip instead—fist into palm," says Mead. (Related: Could Prenatal Yoga Treat Depression)
A certified instructor for Trauma-Sensitive Yoga under Yoga Warriors International, Mead has been teaching this unique class for over seven years now. She's also a member of the International Law Enforcement Educators and Trainers Association and is the recipient of the 2016 Warrior Award and Community Choice Award from Yoga Alliance International for her work with first responders and military veterans. (BTW, here's how PTSD presents itself – plus how to treat it.)
Olivia Mead's Yoga Journey
Mead's interest in yoga started at age 6 when she would accompany her grandmother to gentle yoga classes. Mead's father, a professional golfer, relied on yoga to improve his mental game and he shared some of those techniques with her. As a young adult, she supplemented her classical ballet training with yoga every morning before starting musical theater classes at her college in New York City.
Gradually, she swapped pointe shoes for yoga pants, drawn to the way that stretching, intense focus and physicality are blended into a single discipline. "Yoga provides a complete system to train your yourself mentally, physically and emotionally," says Mead. "That's why I like it so much. I wanted to explore how I could use these tools to help others." (Here's how yoga supports brain health.)
In pursuit of that mission, Mead teamed up with her local Veterans Affairs office to provide yoga classes to military members suffering from post-traumatic stress. "I was teaching active military members after they returned home from deployment and were acclimating back to civilian life," she says. One day, a light bulb went on: What about cops and firefighters? "They're out there in their own battlefield every day dealing with more loss, trauma, death and destruction in one shift than many of us see in our entire lives," she says. "Then they have to go home and switch gears and pretend that they didn't see all of those horrible things."
Yoga, she thought, could help them decompress in the way it helped veterans. But an internet search for "yoga for first responders" yielded no results. Undeterred, Mead decided she'd be the first. In 2013, with permission from the Los Angeles Fire Department, she created a flyer to advertise yoga classes at the LAFD. Aware of the stereotypes yoga invokes, Mead eschewed New Age images on her sign for a bold font and picture of a strong, tough man. " We used branding that spoke to people who are normally isolated by the marketing of yoga," she says.
To her delight, the classes were well-attended. Soon after, the Los Angeles Police Department reached out to ask Mead if she could provide similar sessions for its police force. Six years later, the YFFR team offers department programs, training academy curriculum and conference presentations around the country. As of 2019, Yoga for First Responders has trained over 10,000 participants in the U.S. and Canada and has worked with more than 50 organizations.
Spreading the Word About YFFR
Today, Mead works with mental health experts and law enforcement leaders to create yoga programs that address the needs of first responders. The YFFR program pairs traditional hatha yoga moves with principles from trauma-informed yoga in what Mead calls the "YFFR Protocol."
"Doing Warrior II on the yoga mat isn't going to regulate your nervous system after a stressful incident," says Mead. "It's the change of perception in your mind that is going to process stress out. We never say we're taking stress away, because stress is part of life and it's part of the job. What we are teaching is how to process it so you actually learn from that situation and become stronger because of the stress. We're building resilience."
During the YFFR classes, Mead and her team also teach mobility enhancements.
"Immobility can come from stress," Mead says. "When you carry stress and trauma in your body's tissues, your fascia locks up. That's why we feel immobile. So when you process the stress out, it allows the body to move and open up."
Though Mead travels around the country frequently for her job, she packs a mat and workout wear and tries to do at least 20 minutes of yoga and breath work daily. "I also lift weights and do barre classes," she says.
The best part of her job? "Sometimes I just see a glimmer in someone's eye now that they have this new tool," says Mead. "They've gone from walking into class with their arms crossed and an attitude like, 'I don't want to be here' to 'I had no idea. This is amazing,'" she says. "When you see someone being given a new tool by learning how to practice yoga, it's like you put the magic key in their hand and you realize, 'I did it. I shifted this person's career and life by giving them this tool they can use.' That feels really good."
Read the full article on Reebok.