Why The King of Pop's Cirque Show is a Must-See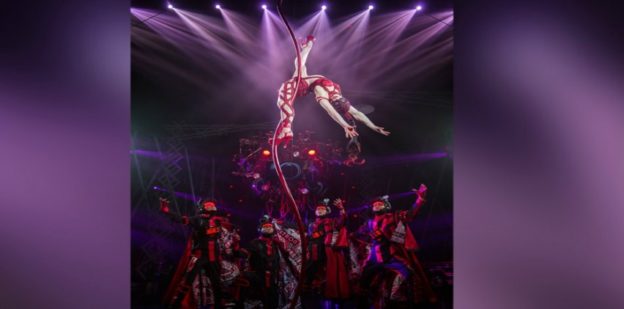 September 9, 2017 | Categories: Travel
On the last weekend in August 2016, I jetted from NYC to Las Vegas to check out Michael Jackson ONE by Cirque du Soleil in honor of Michael Jackson's birthday weekend celebration. It was my first Cirque show ever so I didn't know exactly what to expect but I was excited for dance moves that would mime MJ's and a high-energy performance. For the 90-minute show, the six other journalists attending the weekend and I were pretty much smiling like kids, tapping our feet, while being wowed by the performance and special effects. If you're heading out to Las Vegas  I suggest adding this Mandalay Bay Resort and Casino show to your itinerary.
Many of your favorite Michael Jackson songs are transformed on stage with dancers, acrobats, trampoline acts, slacklining, and the tumbling acts Cirque du Soleil fans already know and love. The song list includes: Beat It, Smooth Criminal, The Way You Make Me Feel, Bad, Dirty Diana, Wanna Be Startin' Somethin', Black or White, Thriller (of course), and more.
I got a chance to talk with the cast and crew, as well as their trainer who makes sure the cast can operate at peak performance.
"My role at Michael Jackson ONE is to ensure that performers are in the best condition to perform 10 times a week, says trainer Mat Miller, from Scarsdale," NY. This is done through strength and conditioning regiments that consist of full body resistance training, metabolic conditioning and regular practice of increasing mobility and flexibility. Strength and conditioning plays an enormous role in the performers' ability to perform at this level, especially when it is two shows a day, five days a week, says Miller. "It's important that they continue to encourage their bodies to adapt and build constantly in order to keep up with the rigors of the show schedule and improve their abilities."
One of the most awe-inspiring performances is to the song Dirty Diana and will call to mind IFBB Pro Oksana Grishina's pole fitness performance at The Arnold in February 2014. Watch a glimpse of the "Dirty Diana Act" in this Michael Jackson ONE video (it starts 01:00 in).
One of the main 'Diana' performers is Johanna Sapakie, from Plymouth, Minn., who says she started working out at the gym with her dad at a young age. Though she began her career as a classically trained and commercial dancer, Sapakie eventually learning aerial acrobatic training with a Los Angeles-based dance group. She took silks lessons with a former Cirque Du Soleil artist and fell in love with that art form but said she didn't possess the upper body strength she needed to complete the challenging aerial tasks at that time. "With a ton of hard work and diligence I was able to gain the strength and took to the new performance format quickly. From there, I continued on training other apparatus including lyra (hoop), hammocks, and straps. I finally added acro pole dance to my bag of tricks while working on my first Cirque Du Soleil show, Viva ELVIS in 2009," says Sapakie.
During the four-minute 'Dirty Diana' act, Sapakie does various sequences on different-sized poles around the stage after flying to the stage from the back of the theater upside down on an aerial harness (and you thought your job asked a lot of you!). "In addition to shows, I cross train at the gym five to six times a week. My workout routine always combines stretching, cardio, strength training, and foam rolling," says Sapakie. Her abs routine varies but often involves sit-ups, legs lifts, Pilates hundreds, and planks. For Sapakie's upper body workout, she does push-ups and pull-ups in various hand positions, as well as uses free weights and pulley machines. "I pay close attention to shoulder and wrist strength and mobility. Achieving a larger range of motion with each exercise helps me maintain the flexibility necessary when working [my act]," Sakapie says.
Read the full article on MuscleandFitness.com.