The Hottest Hotel Gyms in the U.S.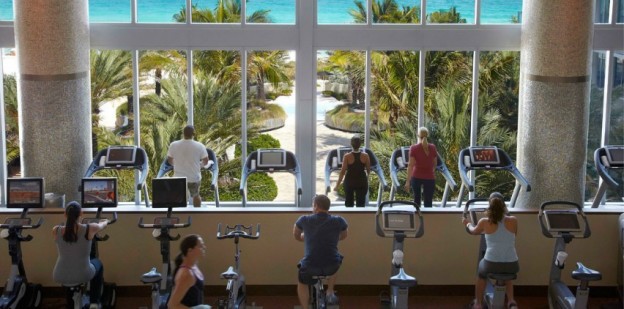 June 9, 2016 | Categories: Travel
Americans may be turning into healthier travelers. According to a 2015 Hotels.com survey, thousands of travelers are saying "Yes" to seeking out fitness centers in hotels and "Who cares?" to the mini bar staying in hotel rooms. Of the amenities worth sacrificing to save a few dollars at their hotel rooms, Americans voted to ditch turndown service first, and fitness centers last. The also ranked "the mini bar" as the amenity they're least likely to use in the room (take that tempting chips and chocolate!). Here are some of the coolest hotel gyms we want to visit:
Carillon Hotel, Miami
The fitness center at the Carillon Hotel, Miami, overlooks the beach. Choose from more than 40 classes daily, from sunrise yoga to TRX. (carillonhotel.com) (Pictured)
The W, San Francisco
The 24-hour gym looks like a night club in the evening with neon-colored lights and equipment spread around a lounge space. (http://www.wsanfrancisco.com/)
Here's how to get your best night's sleep away from home.
The Hyatt Bellevue, Philadelphia
What doesn't this fitness center have? We're impressed with the full-size NBA basketball gymnasium, indoor track, boxing facilities, squash and racquetball courts, and of course, strength training equipment. (hyatt.com)
The Radisson Blu Aqua Hotel, Chicago
It's easy to keep up with your fitness regimen thanks to a 1/5-mile running track, dedicated yoga space and a 25-yard lap pool, or stroll the 80,000 square foot lifestyle garden that's open in the warmer months. The 8,000-square- foot fitness center is equipped with state-of-the-art cardio machines, weightlifting equipment, a basketball court, a spinning facility and an indoor swimming pool. (https://www.radissonblu.com)
Four Seasons, Hualalai, Hawaii
This luxury resort offers customized Ironman training for guests, with an Ironman competitor/champion, anything from a day to a week of triathlon training. They have a 24-foot climbing wall with instruction clinic, swimming lessons, Bikram yoga, and a ton of other fitness classes and personal training options. (www.fourseasons.com)
Check out 10 amazing hotels that prioritize fitness and wellness.
See the full list on MuscleandFitness.com.