Everyday Teas That Soothe Your Mind *and* Your Skin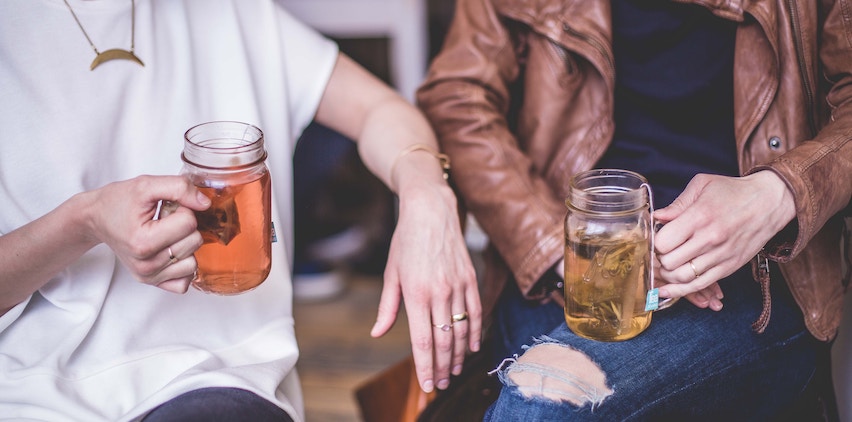 February 16, 2020 | Categories: Beauty & Skin Care, Health
You might still associate drinking tea as a favorite pastime of British monarchs, a habit pregnant women typically take up or the only free thing you get to do at a trendy meditation center. Girlfriend, it's time to change your thinking!
It makes sense that tea has been consumed since the dawn of time because it has some powerful healing abilities. Not a fan of the taste? No problem — the best teas for skin health work just as well topically.
The Connection Between Tea and Your Skin
If you want to maintain a gorgeous complexion, bringing tea into your daily regimen is a great place to start. Tea is packed with antioxidants that patrol free radicals in the body and support skin health.
Essentially, free radicals speed up skin's aging. They occur naturally, but certain environmental factors like UV rays and air pollution can increase their presence. Luckily, free radicals have an archenemy — antioxidants. Adding antioxidant-rich foods and drinks (like tea) to your diet can help reduce free radicals and their harmful effects.
Collecting different tea tins in the name of skincare might entail some experimentation — the best teas for skin that's too oily might be totally different from the teas that soothe irritated skin. However, anyone can find one that works for them! Once you've broken out your favorite novelty mug, here are four delicious teas to drink for your skin health. (BTW, black tea can seriously help your mental health.)
The Best Teas to Drink for Skin Health
1. Blackberry leaf tea
You already know that berries are considered a superfood and are packed with vitamin C and antioxidants. So should it be any surprise that blackberry tea can do wonders for your skin? This fruity beverage has been shown to have both anticancer and antimicrobial properties. Additionally, blackberry tea leaves have even been used to treat skin conditions like psoriasis and skin ulcers. (Wait, what's your gut got to do with healthy skin?)
2. White tea
This delicate tea may have an understated flavor, but it packs a punch against signs of aging. Research has found that white tea can reduce inflammation and help prevent or minimize wrinkles. That same study reported that drinking white tea helped stop the breakdown of both elastin and collagen in the skin (components that help keep skin looking firm and youthful). Beauty products that contain white tea extract can also help reduce the damage that oxidative stress causes to your skin!
3. Chamomile tea
Ever sip a mug of this type of tea and instantly feel so much calmer? There's a reason for that. Chamomile has been used to help with insomnia and sleep issues, as well as a mild sedative to calm nerves and anxiety. Topical skincare products made with chamomile can help treat mild eczema, and when cold and flu season comes around, drinking chamomile tea can give your immune system a helpful boost.
Read the full article on Aveeno.