The Ultimate Skincare Routine for Your Home Spa Day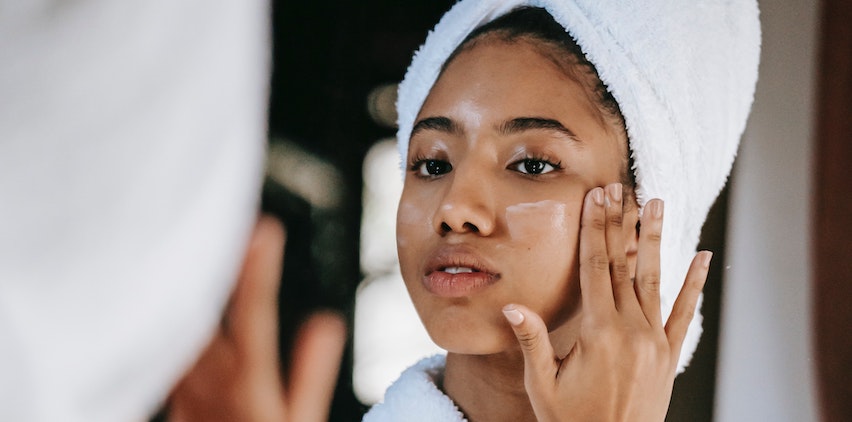 March 7, 2021 | Categories: Beauty & Skin Care
"What should my skincare routine be?"
It's a big question with thousands of possible answers. But when you have the opportunity to perfect your beauty routine, it's a good time get back to basics and focus on what really makes you feel good.
Make time for self-care by relaxing with a spa day at home. Taking care of your skin is a form of self-love that benefits your mind as much as your complexion. That connection between your mental state and your skin goes both ways, by the way — when you're stressed, one of the first places you're likely to see a reaction is on your skin. (The food you eat can impact your skin, too.)
Put up your feet and enjoy a calming routine to ease away tough days and give your skin something to glow about, all from the comfort of your couch.
Restore Your Skin With These Home Spa Tips
Hydrate, hydrate, hydrate
Start the day off with a tall, refreshing drink. Whip up some spa-inspired infused water, such as cucumber and lemon, to hydrate your skin from the inside out during your spa day at home. According to the journal Clinical, Cosmetic and Investigational Dermatology, staying hydrated helps prevent transepidermal water loss so skin looks healthy, supple and smooth. It doesn't hurt that sipping on a cool drink is relaxing. Managing stress in healthy ways — like talking to friends, practicing breathing techniques or, yes, enjoying your own homemade concoction — could help you avoid skin conditions that flare up with psychological stress.
Prioritize moisturizing
Once you're well on your way to hydration, apply moisturizer all over your body, and remember to add sunscreen (even if you plan to keep your spa day indoors). Using a moisturizer protects the surface of the skin so it stays soft and healthy. As an added bonus, your skin will more effectively hold in all that water you've sipped.
Keep in mind, though, that there's a difference between hydrating and moisturizing. Your skin needs both, so apply a hydrating lotion sunscreen with SPF 50 to your face to protect it from harmful UV rays that could lead to sunburn and early signs of aging. (Here's how to add coconut oil to your skincare routine.)
Indulge in a massage
Massage is a tried-and-true way to relax and reduce tension caused by stress. Self-massage at home with a jade roller during your spa day to melt away any lingering stress. (Related: How to Give Yourself a Swedish Massage at Home)
Massage doesn't have to be just for sore muscles. When you're taking off your makeup each night and applying eye cream and other rich formulas, gently massage the product into the skin with the pads of your fingers. This can improve circulation, reduce puffiness and release tension in your face. Using a jade roller also minimizes puffiness and, as a bonus, can increase skin blood flow, according to the Tokyo Institute of Technology. If a relaxing bath is part of your spa day at home, cleanse with a body wash scented with soothing scents like lavender or chamomile and then slowly massage tight muscles afterward using stress relief moisturizing lotion.
Read the full article on Aveeno.