How to Stay Healthy While Traveling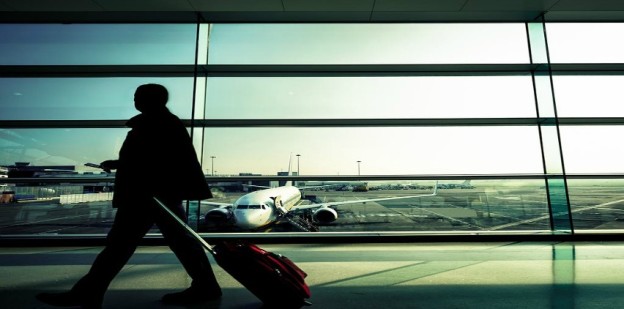 August 18, 2017 | Categories: Travel
Whether you are driving for a few hours to visit relatives or going on a vacation, you know you're going to be faced with food temptations at every turn. Let's face it, when we're overtired and stressed from travel, a warm, gooey, carb-laden something-or-other always seems like it will make us feel better. But if you are following a healthy eating and exercise plan for weight loss (or maintenance), you'll want to make sure you stay on the straight-and-narrow at every leg of your stop. Follow our healthy travel guide so you make it to your destination—and back—without a gain.
Schedule your workouts. Look for open time in your schedule and plan your workouts. Visit MapMyRun to find popular local running routes and trails. If group fitness is your thing, check out local indoor cycling studios, like Flywheel or SoulCycle or get your heart pumping at Orangetheory Fitness interval classes. These studios are available in many major cities. If time is tight and/or fitness amenities are not available, get your body moving with this bodyweight workout that can be done anywhere. Set reminders on your phone so you don't forget this important piece of your day.
Book a hotel with fitness options. Depending on where I'm going and what I'm doing when I'm traveling, I'm the type of traveler who prefers walking and running around the city I'm visiting to maximize calorie burn. It's a great way to see the town and makes me feel like I got some fresh air and sunlight when I might otherwise be inside the rest of the day. (Learn more about how sunlight can help you feel more awake and energized here!) Sometimes, though, you don't have enough time to squeeze in an outdoor workout, it's dark or cold outside, or you want to do a weight training workout. Luckily, hotels are catching on to the "healthy traveler" trend and are designing gyms you'll actually want to exercise in while you're on vacation or on a business trip. Check out this list of The Most Incredible Hotel Gyms in the U.S.
Drink a ton of water. Anyone who travels knows that feeling tired is usually par for the course at some point. What they might not know is that dehydration is likely the culprit of those feelings of fatigue at first and a reason why you might think you're hungry when you're not. Since I know that air travel dehydrates me, I pack a reusable water bottle with a tight-fitting lid. I make sure my bottle is filled to the top before getting on the plane. And yes, like you, I don't want to get up often for bathroom breaks during the flight from drinking too much water, but I also tell myself it's better for my circulation to get up and stretch on the way to the lavatory. Staying hydrated also prevents you from mistaking hunger for thirst.
Pack plane snacks.  I can't say that I always turn down airplane food (and yes, I've been guilty of a small candy purchase or two before flights), but I've interviewed enough experts to know that I should try to eat fruit, protein, and some whole grains for my flight. I also find that I'm better off picking up something simple, like a turkey sandwich on whole wheat bread or Greek yogurt, to eat on the plane and feel satisfied.  Here are 10 snacks under 200 calories.
Prioritize sleep. When many of us travel, we often find it tougher to get quality hours of sleep when we're away from home. And I don't know about you, but when I don't get enough sleep, I'm irritable, impatient, sluggish, and want sugary, high-carb foods and lots of strong coffee so I feel temporarily energized. To learn more about how to sleep better when traveling, I interviewed frequent fliers for this article "How to Avoid Jet Lag and Sleep Better Away from Home." I learned that those sleep issues I experience could be due to my sleeping environment (like noise and room temperature!), if I'm eating too late at night or consuming heavy, unhealthy foods my body isn't used to, or, my body hasn't adjusted to the time difference of my new location. The sleep experts I chatted with suggested that travelers try to make their new environment feel more like home by packing favorite pajamas and even a pillowcase you love. Bring a sleep mask and earplugs, and make sure you get out into the daylight when you arrive in a new time zone to help your body "wake up" and adjust.
Signs You're Headed for a Rough Night's Sleep.
Read the full article on LEVLnow.com.