Here's How Gardening Can Boost Your Health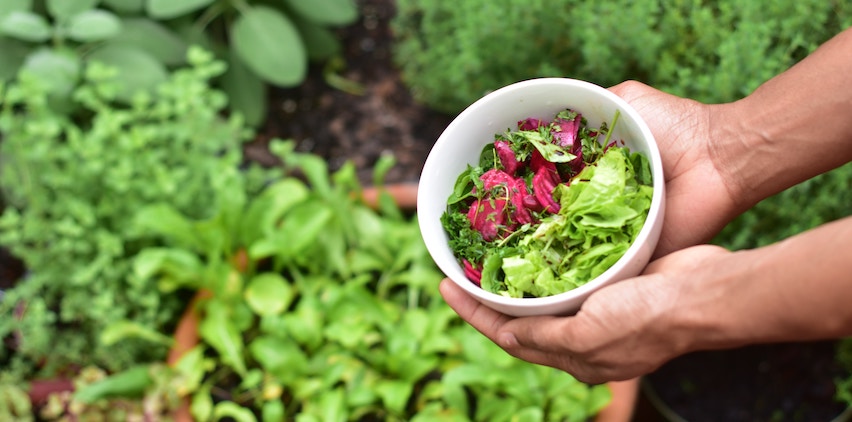 December 30, 2019 | Categories: Health, Home
Ever walk by a beautiful green space in the middle of your town and come across the idyllic scene of neighbors digging, planting and chatting with one another? This was likely your area's community garden!
If you're interested in flexing your green thumb, look into signing up and managing a plot of your own. Digging in the dirt and seeing your efforts bear fruit (or vegetables) isn't just about producing food — it's a cathartic exercise that can enhance your overall well-being. (Getting some fresh air in the morning can even make you feel more awake.)
Here are the biggest benefits of gardening, and a few tips for getting started in your own community.
The Health Benefits of Gardening
1. You may get sick less often
It's no secret that spending time outside in the fresh air and soaking up some sunshine is good for your health. Exposure to sunlight helps your body produce vitamin D, which is crucial to keep your immune system functioning optimally. With that said, you should definitely slather on a broad-spectrum sunscreen to protect your skin from damage caused by UV rays. Yes, even on cloudy days!
2. You'll eat more greens
You reap what you sow, especially at community gardens. After a successful season, you and your fellow members will be treated to an abundance of wholesome produce that's perfect for trying out new dishes at home. (Here's how to turn them into hearty meals this winter.)
Grocery store vegetables sometimes end up in the trash — we've all done it at one point or another. But when you've personally worked to nurture the vegetables, you're more likely to eat them. They'll likely also taste better, since you know how they were grown and don't have to worry about mystery fertilizers or pesticides.
If you live in an area with limited access to fresh food and want to share your bounty with the larger community, check out organizations like AmpleHarvest.org that'll help you donate fresh produce to those in need.
3. You'll be in a better mood
What is it about digging in the dirt that brings out such good vibes? You aren't imagining it — it's a real phenomenon. The relaxing benefits of gardening extend to treating anxiety and stress, according to research in the Journal of Therapeutic Horticulture. It's even being used to improve quality of life for people with eating disorders and dementia.
After a long, stressful day, unwind with an evening of digging, planting and pruning. Want to spread the love? Try chatting with a neighboring gardener and ask them about their day to give back and help another person feel heard and cared for.
Tips for getting started in your community garden
If you're interested in cultivating a plot in your town's community garden, search local resources to see if there's already a garden in your neighborhood or the greater area. You could perform an online search using keywords like "community garden near me" or "community garden" alongside your zip code.
If you don't see any viable options, consider starting your own! This community garden checklist from the USDA will help you build a community garden (quite literally) from the ground up. It provides advice for choosing a location, deciding what to grow and knowing where to turn for help when you need experienced gardeners to pitch in.
Read the full article on Aveeno.