Best Summer Wines: What to Drink in the Summer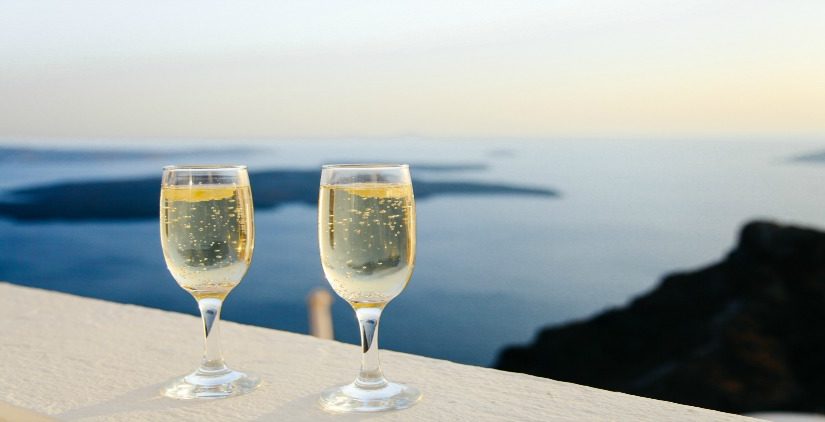 June 6, 2019 | Categories: Health
When you're looking to expand your palate with summer wines, look to this list of seasonal whites, reds, and roses. Rather than simply drinking your go-to sauvignon blancs, rieslings, pino grigios, moscatos or rosés, branch out and try these summer wines that are all under $50/bottle (hint: most are closer to $20/bottle).
For the low-down on the hottest summer wines to buy and sip all season long, I spoke to Marika Vida-Arnold, the sommelier at The Ritz-Carlton New York, Central Park, and Jon Joseph, wine director at Urdaneta, a tapas-style restaurant in Portland, OR, that focuses on the Basque region of Spain.
"Summer is about fun and light, fresh foods and picnics, and it shouldn't be about seriously expensive wines," says Vida-Arnold.
Here are the top rosés, summer white wines, summer reds, sparkling wines, and even vermouth to sip in warmer temps and pair with summer foods.
If you're new to drinking wine, check out this wine 101 article.
ROSÉ
First thing that comes to mind every year for a summer rosé is the Txakolina Rosado "Rubentis," Ameztoi 2016 ($22). "It has a little bit of spritz and it's evocative of the sea air," says Joseph. This delicious rosé from the Basque coast has a barely ripe strawberry flavor. Since it's low in alcohol, it's perfect for drinking at the beach, Joseph suggests. He recommends pairing it with seafood, like clams.
Another Spanish rosé that topped Joseph and Vida-Arnold's lists would be the Raventos i Blanc De Nit Brut Rosé 2013 ($23). "The bubbles roll across your palate and it's a beautiful sparkling wine," says Joseph. It has a little more alcohol than the Rubentis and is made in the same method as Champagne, Joseph says. He'd suggest pairing it with oysters or spring vegetables.
Franciacorta sparkling wines in the northern area of the country tend to be considered the "Champagne of Italy," says Vida-Arnold. "They are well made and in the same style of Champagne. The Majolini Franciacorta Altera Brut Rosé ($40) from Franciacorta is great," she says.
The Gaia Agiorghitiko Rosé, Namea, Greece 2014 ($13) is a beautiful, fruity rosé that pairs well with Greek food, like grilled octopus and hummus, suggests Vida-Arnold.
For an American-grown sparkling wine that you may not have tried before, consider Domaine Carneros in the Napa Valley. Vida-Arnold recommends its 2011 Domaine Carneros Ultra Brut (which is currently sold out, but if you find it on a menu, order it). Check out its sparkling Blanc de Blancs or Brut Sparkling Cuvée.
WHITE SUMMER WINES
For a light summer white, consider Albariños, like the Do Ferreiro Albariño 2014 ($24). The Do Ferreiro winery has 10 hectares (about 25 acres), three of which are more than 50 years old, and one of which is more than 200 years old, with vines in their original roots. (In case you're a beginner, that's quite rare in the wine-making world.) Winery owner Gerardo Méndez blends the 200-year-old fruit into this Do Ferreiro Albariño. The bottle is a huge value, with the beautifully aged fruit adding concentration to the wine, Joseph says. Pair it with spring vegetables, like asparagus or fennel, fish, first fruits of the season like peaches and apricots.
For a fresh, crisp flavor, order Portugal Vinho Verde. Vida-Arnold calls these "the beer of wine" because they're very light and have a little bit of CO2 left in them. They're not complex at all and it's the opposite of a barrel-fermented Chardonnay. Check out the extremely affordable Aveleda Quinta da Aveleda Vinho Verde 2015 for $10.
Alsace in the northeastern corner of France produces white wines that have a huge Germanic influence and can be described sometimes as a "dry Riesling." They are unoaked, pinot blanc, pino gris, and amazing values, says Vida-Arnold. "When you're having grilled foods you want neutral wines," she suggests. Try the Domaine Weinbach Sylvaner Alsace 2014 ($29).
RED SUMMER WINES
Summer is still a great time to sip red wine. "You want high acid red in the summer with salads and vinaigrettes," says Vida-Arnold. "You don't want big, heavy tannic wines; look for pinot noirs, and lighter-bodied red wines," she says. Like the Peay Vineyards Sonoma Coast Pinot Noir 2014 in California for about ($40), or the Vietti Barbera d'Alba Tre Vigne 2014 Italy for about $20.
"When red wine is too warm, it tastes flabby [no acidity]," Vida-Arnold says.
She likes to suggest looking for "compromise red wines" in the summer. That means if you're out at a restaurant and you order the steak and your husband orders fish, look for a red wine that's low in tannins. "If you get a big heavy red it's going to make the fish taste metallic. The key is having the right red," she says. Vida-Arnold likes a Beaujolais as a "compromise wine," in particular the Julien Sunier Morgon 2014 France ($25), which is a nice red to bring to a summer party when you don't know if the host drinks red or white. She also recommends Loire Valley Cabernet Francs as lighter summer reds.
Consider a Spanish Tempranillo red wine this summer, which is often described as having flavors of leather and red fruits. The Bodega Cauzòn 'Cabronicus' Tempranillo 2015 is one of Joseph's favorite summer reds.
"This wine is light on the acid, and has a velvety texture," Joseph says. He'd recommend serving it with a light chill at the restaurant. "It's fun to watch someone's look on their face when they drink this chilled red and experience the nuances of this wine." Pair it with grilled meats, but it's soft enough to have with a salad, says Joseph.
With lighter reds, you can chill them bit. "Most of the time in this country, reds are too warm," says Vida-Arnold. "Pinot Noir at 62° is perfect." She says you can simply lay a bottle of red on ice or wrap it in an ice pack to cool it down, especially if you're serving it outdoors on a warm day.
Mencia is a lighter-spirited grape of Spain and recommended to Pinot Noir drinkers, says Joseph. He likes the D. Ventura Ribeira Sacra "Burato" ($18) because it comes from 70-year-old vines. "It has the richness and complexity of old, serious wines but it's light on your palate," says Joseph. "Mencia is the easy-drinking red of Spain, but this bottle, as easy-drinking as it is, has the richness complexity to make you come back for it."
If you want a heavier, full-bodied red, consider the Parés Baltà Indigena from Catalonia, Spain for around $12. "It's made with grenache grapes and is a truly prized wine from Spain. It has a pungent smell of the vineyard, and herbs—dry rosemary and pine needles—which is probably part of being on a forested nature preserve. This wine has nice grit that rolls across the palate and a long finish," says Joseph. This would pair well with steak or lamb, he suggests.
VERMOUTH
If you want to impress your date with your wine know-how, order vermouth before or after your dinner.
"It's time for people to get serous about vermouth, Spain certainly has," says Joseph. "Right now, many of us think of it as an element of a cocktail [like a Manhattan or Negroni]. At our restaurant, we serve vermouth on the rocks with soda on the side and an orange slice and an olive," he says. Joseph likes the Priorat Natur Vermut from Catalonia ($24) and says he'll drink it while sitting on his porch, just letting the first sips coat his palate before adding a bite or orange or olive and letting the flavors meld on his tongue. It could be described as fruity and nutty, as well as bitter and sweet.
To enjoy these wines today and still feel healthy tomorrow, here are four ways to prevent a hangover.
Read the full article at MuslceAndFitness.com.