10 Freelance Podcasts That Help My Business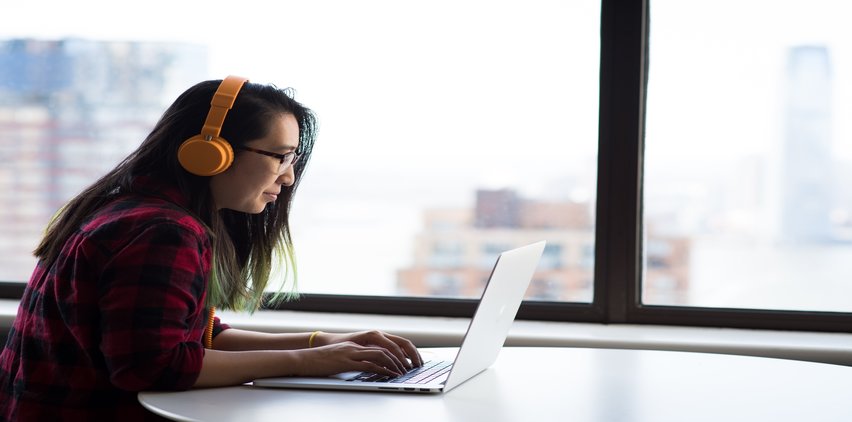 October 10, 2021
When I need a break from writing freelance articles, interviewing sources and emailing editors and clients, I love to listen to freelance writing podcasts as well as a few other categories of podcasts. I'll go on a walk outside (usually with the dog) and listen to a podcast that teaches me something or gives me fresh insights into a new topic.
I used to mainly listen to podcasts in the business, personal finance, or productivity, and health genres, but, as the podcasting world has grown exponentially in recent years (it's expected to jump 45 PERCENT to 1.13 billion this year) I add more podcasts about freelancing, content marketing and the business of freelancing when I find some I like or I hear someone interviewed on another podcast.
Listening to podcasts for freelancers while walking my dog and son, or running errands and driving helps me feel productive, and I try to pick up some interview tips from the freelance writing podcast hosts.
In fact, I've been lucky enough to be the freelance expert being interviewed on a few podcasts as well. It's so much fun. If you'd like to learn more about how I got started with freelance writing and hear some of my best freelance writing tips for success, listen to the podcasts where I was interviewed as a guest, including Glamour's She Makes Money Moves,  Mercey Livingston's Wellness Wednesdays,  Wellpreneur,  and Alex Cespedes' Or So I Thought podcasts.  (Want to chat about having me on your podcast as a guest? Reach out here.)
Podcasts for Freelancers This Freelance Writer Recommends Listening To
(Updated October 2021)
High-Income Business Writing Podcast
Freelance writer and coach Ed Gandia interviews freelance writers and various freelancers to learn about their successful careers, how they got to where they are now, and their advice for other freelancers. I love hearing about the different types of freelancers out there, as well as hearing that they have some of the same challenges and struggles I do. If you want to learn more about business writing as well as how to find high-paying freelance clients, Gandia's guests have good advice on how to do that.
Best of Both Worlds Podcast with Laura Vanderkam and Sarah Hart-Unger
This podcast isn't about freelancing necessarily but it's about balancing having a career you love and a family. Laura Vanderkam is a journalist and author I've interviewed several times in the past and she has a lot of great time management tips. Oh, and she also has five kids! Sara Hart-Unger is a physician, mom of three and blogger. Tune in for interviews and conversations about making time for work and family. Get Vanderkam's morning habits and those of other organized people here.
Melanie Padgett Powers' Deliberate Freelancer Podcast
I met Melanie at an ASJA conference a few years ago but was already listening to her podcast about freelancing. She's not about the "feast or famine" mode of freelancing and encourages listeners to earn higher incomes doing work they love. She also has a lot of great interviews with industry veterans I admire who share helpful, actionable tips in this freelance podcast. Melanie recently featured some of my time-tracking tips for freelancers on a podcast episode. Listen to it here.
Freelance Friday Podcast with Latasha James
I'm new to listening to Latasha's podcast (and YouTube channel) but she's been a full-time freelancer for nearly a decade. Her background is more social media management but she seems to have a down-to-earth but driven approach to freelancing that I love. She seems like a hard worker who knows how to manage a variety of clients.
Free Mama Radio with Lauren Golden (she also has a YouTube channel Free Mama TV)
Lauren created the Free Mama Movement to help women learn how to work from home while still spending the quality time they want with their families. Now that so many of us are working from home and juggling children and childcare situations that are anything but ordinary, I think she has a lot of tips in her freelance podcast that help women think beyond working certain 9 to 5 hours with their careers.
The Marketing Mentor Podcast from Ilise Benun
Many of Ilise's interviews seem to be with her coaching clients (or freelance experts who pitched her) but she tackles specific topics in this freelance podcast that I find helpful in my freelance writing business, like discovering a niche, creating sales funnels, passive income, and more. Even if you're not doing much content marketing writing, I think freelancers will get helpful business tips from these relatively short conversations.
The Writer' Co-op Podcast with Jenni Gritters and Wudan Yan
Jenni and Wudan have insightful, honest conversations about freelance writing, work-life balance, and yes, freelance rates, with each other and their guests. I like hearing about how Jenni is balancing freelancing with a toddler at home, too, and Wudan has a ton of great ideas on places where freelancers can find money (like grants!) and new clients.
Personal finance journalist Jean Chatzky interviews male and female authors, entrepreneurs and personal finance experts about business and money topics. These personal finance podcasts usually drop on Wednesdays and include their 'mailbag' reader questions at the end of the podcast. I get ideas for personal finance topics and potential article sources to interview for future articles while listening.
Dave Ramsey is a personal finance guru known for his aversion to debt. While I enjoy hearing Ramsey's personal takes on the financial news and current events, I'm most entertained by hearing callers' personal stories. Listening to anecdotes that run the gamut from divorce, death, losing a job, and trying to pay off tons of student loan debt from every corner of the country makes me feel very grateful for my own life and that I get to be a freelancer working a job I love that pays well. It also helps me stay focused on my financial goals and often keeps me from winding up in a store while on a walk! I also find it inspiring to hear stories of triumph about families with small children and one income buckling down and paying off debt, building up savings, and feeling relief once they get a handle on their personal finances. (In this article, I interview Ramsey's daughter, Rachel Cruze, and other personal finance experts about how to reach your money goals.)
In case you haven't caught on, I'm a big fan of the personal finance podcast genre and have a few more finance podcasts I listen to. I sometimes listen to financial journalist and author, Farnoosh Toorabi's So Money podcast. She has interviews with experts (usually women) in the personal finance space and I find new, inspiring women to follow, businesses and books I want to read, and learn a lot about investing. More female-led personal finance podcasts I've been enjoying? Afford Anything with Paula Pant, who addresses smart money decisions to make to help you lead your best life long term, and The Financial Grownup podcast with certified financial planner, Bobbi Rebell. Although these might not seem like podcasts for freelancers and podcasts for content marketers at first glance, I'm a strong believer in having a solid financial foundation in order to run a successful six-figure freelance writing business.
I hope this list helps you find some new personal favorites and discover the best podcasts for freelancers to listen to that help your business.
Which podcasts for freelancers and freelance writing podcasts do you listen to?
Learn how you can become a full-time freelance writer or start freelance writing as a side hustle after enrolling in and taking my e-course, "Get Paid to Write."
Sign up now to learn how you can earn thousands of dollars freelance writing from home!
Tags: article ideas, article writing advice, content marketing, freelance, freelance writing, freelance writing tips, how to make more money, podcasts, podcasts for personal development, productivity, side hustle, six figure income, six-figure freelancer, work from home