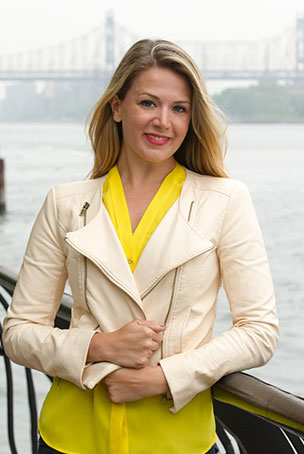 The short version? I'm…
A freelance writer, content marketing writer, and digital strategist who's worked with brands like Real Simple, Reader's Digest, Prevention, Bloomberg Businessweek, Men's Health, Muscle & Fitness, Fitbit, Aveeno, Beachbody, Kellogg's, buy buy BABY, and more.
A journalist, digital editor, and magazine editor with nearly 20 years of experience working for national publications and award-winning brands on staff and as a freelancer. I'm also a member of the American Society of Journalists and Authors and a freelance writing online course instructor.
A published author who's written Your Perfect Diet Match (Simon & Schuster, December 2020), 100+ Tips for Beginner Freelance Writers (Self-Published, August 2019), and co-authored three books for the Fire Department of the City of New York (FDNY Foundation)
A bit of a nerd who likes translating complicated research, data, and statistics into interesting, relatable content that drives audience engagement and repeat visits.
Here's how Diana Kelly Levey's freelance writing career began…
Before she was a freelance writer, editor, and content marketing writer, Diana loved demonstrating her creative side as a toddler who scribbled on walls instead of paper. Encouraged to further pursue these writing and drawing talents, Diana experienced the thrill of seeing her name in print above an article she penned for the second-grade newspaper.
Deciding that continuing to see her name in print was a worthy career pursuit, Diana worked on her spelling, read as much as possible, and was known for asking a lot of questions at the lunch table in high school.
She studied journalism at Rutgers University and was a staff writer for the college newspaper, The Daily Targum, where she also had a regular advice column. After editorial internships at Redbook magazine in New York and South Jersey magazines, Diana high-tailed it to New York City with her journalism degree and has been working for major media magazines and brands for 20 years.
All of this is to say, Diana really likes to write and considers herself lucky that she created a six-figure freelance writing career out of doing something she loves. Diana's 20 years of professional media experience include print and digital editing, copywriting, DTC writing, content marketing writing, book projects, social media management and strategy, syndication strategy, white papers, blogging, SEO writing, ghostwriting, and freelance writing coaching services.
She helps clients and brands develop their editorial strategy and establish their voice and tone while creating compelling digital content that drives traffic and repeat visitors.
Diana is at her best when she's covering topics, products, and services that help people and can improve readers' lives in some way.
Diana Kelly Levey's expertise includes health, health care, fitness, weight loss, sleep, sleep products, pet health, skin care, lifestyle features, freelance writing topics, and business profiles.
Diana in Media:
Diana has appeared on the 'Dr. Steve Show' and Fox 5 News in New York discussing weight loss and fitness topics as well as appeared on panels at journalism conferences and publicity events.
Diana has shared her expertise as a freelancer and content marketer in the following articles:
How to Earn an Extra $1000 a Month (U.S. News & World Report)
4 Digital Marketing Trends Every Brand Should Watch For (Inc.)
How to Use a Summer Slowdown to Advance Your Career (Fast Company)
Here's How to Have a Successful Conversation with Prospective Clients (Adobe)
Diana has been interviewed in several podcasts. Listen to her discuss:
She lives in Long Island, NY, with her husband, young sons, and adopted dog.
Email her: Diana(at)DianaKelly.com to inquire about working together.
"Either write something worth reading or do something worth writing."
– Benjamin Franklin