Why Adventure Seekers Should Visit Grenada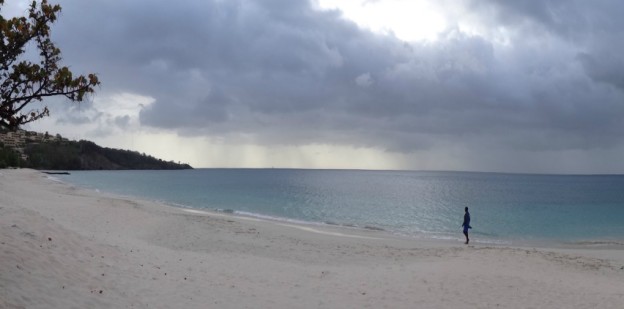 June 9, 2016 | Categories: Travel
This story first appeared in the May 2016 Caribbean insert of Vacation Agent magazine. See PDF.
Grenada (pronounced Gre-nay-da) is known as "The Spice Island" because there are more spices per square mile here than any other place on the planet. When you drive through the island with the windows down, you can smell a mix of spices, which include nutmeg, cinnamon, mace, cocoa, cloves, ginger and vanilla.
Grenada is relatively new to the tourism scene for a Caribbean island, with tourism truly launching in 1984. It's the southernmost of the Windward Islands, just 100 miles north of Venezuela and 158 miles southwest of Barbados.
The location contributes to the island's unspoiled natural beauty, which includes verdant mountains, rainforests, waterfalls, natural preserves, and 45 white-sand beaches and nine black-sand beaches. That's a lot packed onto an island just 12 miles wide and 21 miles long.
This picturesque isle is part of the Grenadine Islands, which include sister islands Carriacou and Petite Martinique. Sighted by Christopher Columbus in 1498, Grenada changed hands between the French and the British until it was awarded to Britain in 1793. It became an independent nation in 1974.
GETTING THERE
With new JetBlue service from New York (almost 5 hours direct) and a marketing push from the Grenada Tourism Board, this stunning island is a must-see, particularly for divers, families and wedding parties. American Airlines offers frequent flights on weekly basis from Miami, Delta offers seasonal flights from New York-JFK, and Caribbean Airlines offers regular weekly service from JFK, Toronto, and Trinidad.
TOURISM
Increasing numbers of travelers are discovering Grenada. Visitor arrivals increased by 12.7 percent in 2015 to more than 440,000. Cruise passengers represented 63 percent f arrivals, followed by stayover visitors (32 percent), and yachters (5 percent). Once you're there, seek out Grand Anse Beach (pictured) on the southwestern coast, which is surrounded by mountains and dotted with a few hotels, restaurants and shops.
WHAT'S HOT
Grenada offers something for every kind of traveler, whether your clients want to hike the lush rainforests of Grand Étang National Park, discover waterfalls, scuba dive or snorkel the World's First Underwater Sculpture Park, do boat excursions like sport fishing or whale or dolphin watching, celebrate a special anniversary or honeymoon, or just relax on the beach and float in the clear blue-green sea. If there's only one beach you make it to on the island, Grand Anse should be it the with a two-mile stretch of white sand on the southwestern coast of Grenada, surrounded by mountains and spotted with a few hotels, restaurants and shops along the beach. This beach is a great place to see local families enjoying their beach time on the weekends. You may be approached by locals trying to sell some goods but a polite "no thank you" will send them along if you're not interested. The premier cultural event for Grenada is Spicemas in mid-August with pageantries, parades, music, dancing and all the fun celebrations your clients know and love about Caribbean Carnivals. It's a busy time of year to visit, along with the holidays, so clients should try to book their stays a few months in advance and expect high volume in restaurants and on excursions.
WHAT TO DO AROUND THE ISLAND
The World's First Underwater Sculpture Park is a can't-miss attraction for snorkelers and divers. A series of sculptures act as "artificial reefs" and are located about 22 feet below the surface, where sea life grows on them and swims around them, making them part of the topography. While these sculptures can be visited from the water's surface and enjoyed by snorkelers, there are over 30 dive sites between Grenada and Carriacou which include wrecks, coral reefs and walls that are said to be some of the best in the region.
For hikers who want to explore the lush green rainforests of Grenada, there are plenty of trails of varying intensities to trek, which visitors can do with or without guides. The Annandale Waterfalls are a beautiful natural site to visit.
Historical and cultural places to visit should include Fort Frederick, which was completed in 1791. This fort boasts a panoramic view of St. Georges and was the headquarters of the People's Revolutionary Army during the 1983 intervention. Rum lovers will enjoy a tour of the privately owned River Antoine Rum Distillery in St. Patrick, which has been around since the 1800s (a guided tour is about $2/person). Chocolate connoisseurs will have a new appreciation of their vice after witnessing the "Bean to Bar" tour at Belmont Estate, located in St. Patrick. The 300-year-old plantation has tours that shows visitors how organic chocolate is made and lets you help "turn the beans," witness cultural dancing and songs, and taste their fresh hot cocoa and dark chocolate afterwards. Annandale Falls is a short drive from capital city St. Georges and is a picturesque, peaceful destination where you can hike and take a dip in the bottom pool where the waterfall ends.
Check out Grenada's food truck scene in the "Wall Street area" (across from the Spiceland Mall where many banks are located) on Wednesday, Friday, and Saturday nights for drinks and local eats with Grenadians as they finish out their workweek and meet up with friends to kick-start the weekend. There's a great nightlife of bars and clubs in St. Georges on the weekends, including Bananas Sports Bar and Night Club, Club Galaxy
Don't miss the river tubing experience along the Balthazar River with Adventure Tours. This exciting excursion is great for a group of people like a wedding party, new group of friends, or adult family. The guides prioritized safety and make sure everyone laughed and had fun, even entertaining the group with tricks and jumps at one point. Embark on a one-hour tubing tour through the tropical vegetation in the Grand Etang Rainforest Reserve, followed by a complimentary rum punch (some of the best we've ever tasted in the Caribbean).
WHERE TO EAT
There are a wide variety of restaurants offering local and international cuisine. Here are few dining experiences I suggest:
Oliver's Restaurant at Spice Island Beach Resort
Their nightly 7-course table d'hôte menu is $75 per person in our off-season (April 16th – December 15th) before taxes and $85.00 per person in-season (December 16th – April 15th). Although we do advise that non-resident guests give us a minimum of 24-hour notice they say they'll do their best to accommodate walk-ins but this can be difficult during the high season. For larger groups of six or more, they require 24-hours notice as well as 50 percent non-refundable deposit to secure the booking. Nightly entertainment varies from three to five nights per week. Their dress code is elegantly casual evening attire, excluding shorts, sleeveless tops and open toe shoes for gentlemen.
Belmont Estate
This restaurant only caters for lunch but make sure you plan your trip to the plantation around this meal. It's worth going for the nutmeg pudding dessert alone, but drink the local fresh juices and fill your plate from the buffet of local cuisine which may include delicious beef stew, plantains, and chicken and rice pilaf.
See above about the Wall Street food truck scene for a casual meal with locals on Wednesdays, Fridays, and Saturday (the perfect stop for that post-bar or club snack before heading back to your hotel!).
CLIMATE
The average temperatures are in the 80s, with lowest temperatures between November and February and rainy season June through December. If your clients see rain on the forecast before their visit, tell them not to fret as it's usually a quick storm passing over the rainforest in the north, and often passes through after a quick dose of "liquid sunshine" as locals call it, or doesn't even make it to the southern part of the island.
PureGrenada.com is a great one-stop source for all things Grenada.