UFC Strawweight Competitor Felice Herrig On Fighting Paige VanZant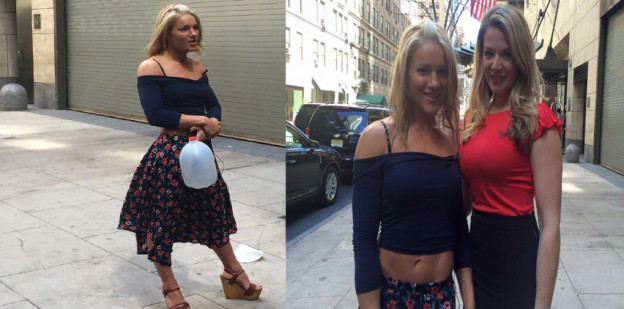 November 3, 2015 | Categories: Fitness
(This article originally appeared on MuscleandFitnessHers.com in April 2015. Story update: Herrig lost to VanZant in the April UFC fight.)
During the UFC's "media day" in New York City, two young, attractive female fighters were garnering most of the reporters' attention while the majority of the male fighters were resting up in their hotel rooms for Saturday's UFC Fight Night at the Prudential Center in New Jersey (FOX, 6 p.m. ET). We caught up with veteran MMA fighter and strawweight competitor, Felice Herrig, to discuss her fight with Paige VanZant, a former model/cheerleader/dancer who won the biggest fight of her 20-year-old life last fall. Here, the 30-year-old fighter discusses why she isn't worried about VanZant's skills, what the UFC has done for women fighters, and the one person she'd really like to get in the cage with (and no, it's not Ronda Rousey).
How did you get into MMA?
I got into MMA through watching my dad. My dad had heavy bags and a speed bag hanging in the garage. He got into martial arts when he was 17. It's amazing considering he was in horrific car accident when he was young and doctors told him he'd never walk again. To see my dad train and do martial arts, run every day and be so healthy…he inspired me. I'd watch my dad and future brother-in-law do kickboxing fights at a nearby gym. I'm one of five kids so we didn't have money to throw around. I never got to be in sports, or do the things I wanted to do, like dance classes. I was the fastest runner in school and athletic and I always wanted to compete. I worked pretty much full time all throughout high school and could pay for my kickboxing lessons at age 18, so I said, "I'm going to fight." And three months later I had my first fight. Since then, it's been my life. I've been doing it for 12 years.
What's it like to be traveling with your competition days before your fight and doing media together?
I don't like it. I know it's a part of the job with UFC but I've never done this with other organizations. I've had 50 fights now and never had to do this until [the TV show] The Ultimate Fighter. I'm used to seeing [my competition] at weigh-ins and at the fight. [Right, so you're not used to sitting across the table with them at lunch like today? ] Exactly. It would be more weird if there were tension, some of the girls I fight talk smack about me and are mean to me and rude. There's really no bad blood with Paige and I so if I were going to do it with anyone, it might as well be with Paige. It sucks for me, but it sucks for her, too. I'm sure she doesn't want to sit here having lunch with me. It is what it is. This is my profession, I have to be professional and do what the UFC asks of me and this is part of my job. It goes beyond the cage and it's not just about the fighting. And that's what comes with being part of the best organization in the world. I think being on Ultimate Fighter got me used to it. I had to live with my competitors for six weeks and fight them and look at them every day knowing, "I'm going to fight you." Looking at them after you beat them, or them looking at you after they beat you, it's hard. So this is kinda whatever. I try not to make eye contact. [Paige] is trying to look at me and smile and I'm kinda looking away. I think for her—and I'm not speaking for her—everything is new and exciting and everything I've done has built up to this moment. So it's not that overwhelming for me.
So what's your game plan for Saturday?
I don't talk game plans and I'm a very instinctive fighter. To me, I don't think Paige possesses any skills…she's not this great wrestler, she's not this great striker, she's not this phenomenal athlete, that I have to be worried about anything she's going to do. I have to impose my will on her and dictate the fight, feel it out and see where it goes. I think I'm going to take control of the fight. I don't make predictions. My body is so trained, I think you have to be animalistic when you go in there and instinctive and adapt to your surroundings. Sometimes you go in with a set game plan and sometimes that messes you up because if that's not working, you better have worked a "plan B."
What's your training like?
As soon as I know I have a fight I'm very dedicated. I found out about this fight while on The Ultimate Fighter in December. I started training and dieting right away. I work with a nutritionist who helps me get as strong as I can be at the lowest weight possible so I don't have to struggle with the weight cut. I've been in training camp for four months. Nothing really changes a few weeks prior to a fight, it's fine-tuning, peaking, and making sure my weight is in check.
Mondays I'll wrestle in the morning, then hit pads with my coach, Jeff Currans, do Thai rounds, then boxing rounds with my boxing coach. Then in the afternoon, I do strength and conditioning. My strength and conditioning coach is sports-specific. We work on speed, agility and power but for my specific needs. Monday is power, Wednesday is speed and agility, Friday is muscle endurance. He gets me strong and lean so I have muscle endurance. Depending on how the previous weeks have gone, I'll go back at night and do technical Jujitsu. Tuesday I do mobility at noon, ground training, then at night I go back and spar. Wednesdays…I usually like that day to rest but if it's eight weeks out from the fight, I'll train and do strength and conditioning and Muay Thai. On Fridays, it's wrestling in the morning, then pad work with Jeff, and more strength and conditioning. Thursday is a boxing lesson with my boxing coach. Saturday I'll come in and do Jujitsu.
Do you take a rest day?
Usually I'll take Wednesday off, sometimes Saturday. I'll gauge my body and see what I need. Because I'm so consistent in all areas I'm not missing out on anything [when I rest]. It's rough. I don't want to go to the gym three times a day, I want to have one workout and be done with it, but with MMA there are so many elements to work on and you have to do them all. It's my workweek. have my fight and focus on my fight. I have my nutritionist write out my meal plan and the meal plan company sends me meals. I've been fighting for 12 years and it's been trial and error. Now I have a good team behind me and sponsors who want to help me out. I like that!
What do you think the UFC has done for women?
We're in an era where men and women are supposed to be seen as equals. Now women are career women. It's empowering. I know the UFC is [bringing women in] from a business standpoint. People want to see women fight and women are exciting fighters. They can't promote something people aren't interested in. They took a risk and put Ronda Rousey out there which had a huge impact. Then they brought in other girls. I believe it's the one sport where women are just as popular as the men. If you look at the NBA or soccer, the women don't get as much respect. I'm not saying I agree with that, it's just the way it is. I'm glad the UFC is coming on board. The women who've always been dedicated and passionate about it can make a living and a career out of it.
What was your end goal with MMA once you started?
I think because I never got to play sports growing up, and I was always athletic and I wanted to be the best. At that time I was. I was a Muay Thai and kickboxing champion. I didn't know I would be doing MMA. Growing up I wanted to be an actress. So when I go out there to fight, that's my time to shine and perform. I thrive off the cameras and limelight and always wanted fighting to open up new opportunities for me and to possibly be in the entertainment industry. I love fighting and I'm not done with it. Before I started fighting I wanted to do figure and fitness competitions. like doing new things. I like having a reason to keep my body in shape.
Tell us about your style in the cage.
I've always been artistic. I can draw. I've always been unique in my style and I never really imagined doing anything with fashion. I like to design my outfits for myself and be unique. I'm not doing things to start trends. I'm not doing things so people can follow them. In fact, I don't want them to follow what I'm doing because then I'm not unique! [Laughs.] I've always lived in themes. I'm really into cosplay [costume play] and superheroes. I come up with an idea and integrate it into everything surrounding the fight, including the weigh-ins. My outfit has to be functional; I have to have my sponsors' logos on it. I have to get the theme across while keeping it professional, like a race car! I don't reveal it until the fight. People don't realize I drop subtle hints with little things I do in my photos, until fight time when everything comes together. It gives me a reason to take my mind off the fight. Because when I'm training, and in fight camp, all I do is go to the gym and eat. It's nice to be able to dabble in something. I put it all together myself, but my manger helps me put it all together when I tell him my vision. We bounce ideas off of each other. I'm so excited for this next one!
If you could fight anyone, man or woman, who would it be?
Probably Cammy [White] from Street Fighter.
– See more at: http://dev.muscleandfitnesshers.com/features/athletes-and-celebrities/ufc-strawweight-competitor-felice-herrig-fighting-paige-vanzant#sthash.zWjWk45t.dpuf