4 Simple Hacks to Reduce Your Food Waste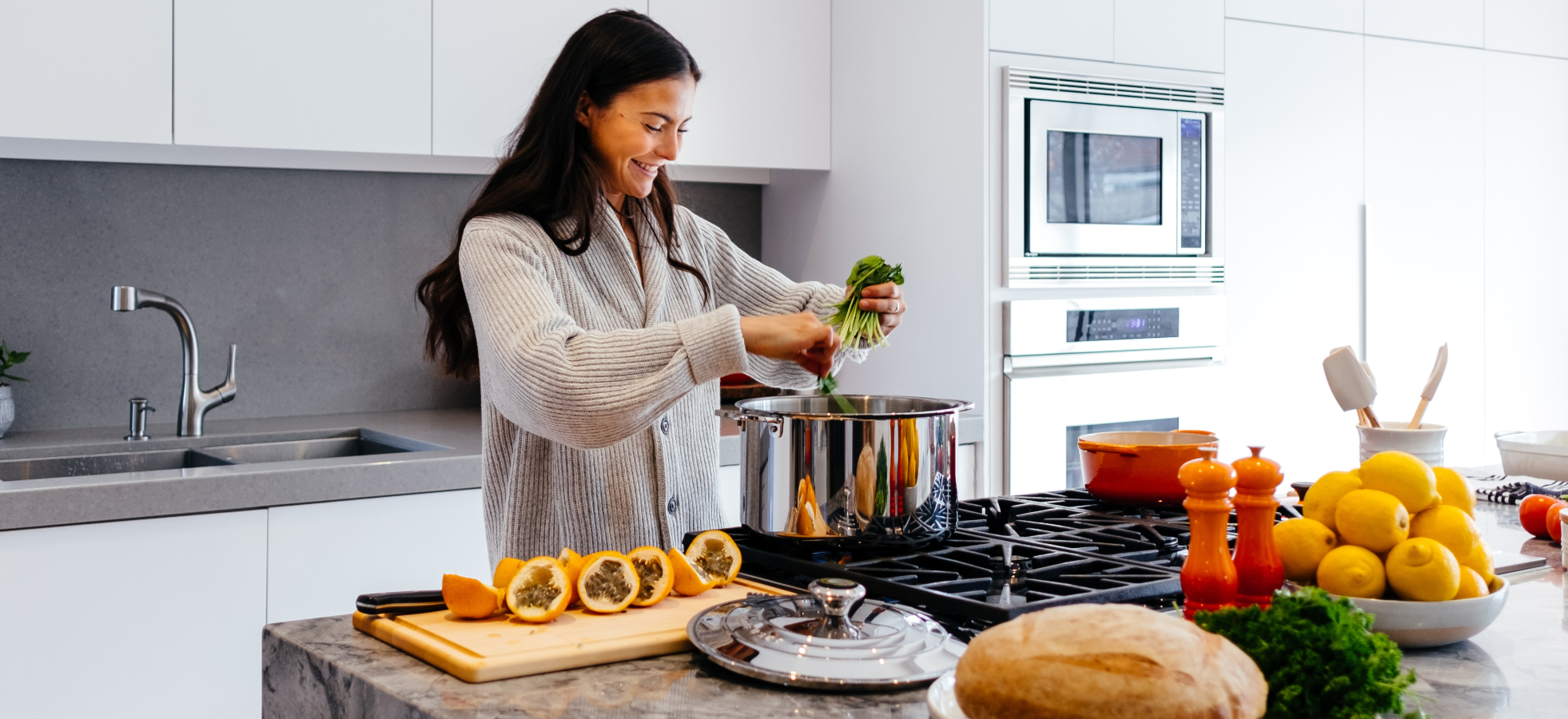 July 26, 2021 | Categories: Personal Finance, Weight Loss & Nutrition
Most of us are aware that there's always something we could be doing to reduce waste and have a positive impact on the planet, but coming up with ideas on what those steps are may leave us scratching our heads. Luckily, there are guides with hundreds of ideas, thanks to books like The (Almost) Zero-Waste Guide: 100+ Tips for Reducing Your Waste Without Changing Your Life by Melanie Mannarino, which includes tips for being less wasteful with what you eat, how you live in your home, and in your community, plus more.
You may have heard about some people striving to achieve a "zero waste" lifestyle—they only fill up one mason jar with waste at the end of the year—but there are achievable steps the rest of us can do to make improvements, especially when it comes to our food habits.
"The idea behind (almost) zero waste is that we can all do something,"  says Mannarino. "You don't have to go to such extremes. There are so many small, everyday actions we can take and behaviors we can change that will make a big difference in how we treat the planet. It's about small lifestyle shifts."
Here, Mannarino shares tips on how you can reduce food waste and run a greener, healthier kitchen—just in time for Earth Day on April 22 and beyond! (These tips will help you feel less stressed in the kitchen, too.)
How to Reduce Food Waste
Eat leftovers.
Seriously, make friends with the idea that if you make a big pot of black bean soup tonight, tomorrow you can strain a quarter cup and use them as quesadilla filling—and then the next night incorporate it into a grain bowl with roasted peppers and onions, Mannarino suggests.
"Every time I open the fridge for a meal, I look at what food is already prepared and ready to be repurposed into a new dish," she says. "I've been enjoying Indian-inspired salads all week, centered around the Chicken Tikka takeout I got Monday night. Toss it with some sliced cucumbers, carrots, lettuce, and toasted naan broken into bite-sized bits—topped with a little raita—and it doesn't feel like leftovers at all, it's a brand new meal."
Avoid fresh produce going bad.
Many of us buy fresh, healthy food at the grocery store with the best intentions but then get busy—or lazy—and forget about it until we try to guess the vegetable in that gnarly, mucky bag.
Keep fresh foods visible, Mannarino suggests. "It's a healthy-eating trick, but it's also a zero-waste one: Put your perishable fruits and veggies on the refrigerator shelves. If those strawberries are front and center when you open the fridge door, you won't forget about them." (Related: These Meal-Prep Hacks Make Healthy Eating so Much Easier)
"Years ago I started putting my fresh herbs in a tall glass of water and storing them in the fridge like flowers," says Mannarino. "It keeps them fresher longer—and I haven't had to face a slimy bag of forgotten dill since."
Buy bulk foods the right way.
If you have the space, buying a large container of a food item at a warehouse club or wholesale club can be economical and cut down on food packaging. Bulk can be great, as long as it's one large package of whatever food—like rice, or ketchup, says Mannarino.  "The issue comes with the large packages filled with individually-packaged items. Also, the trouble comes when we get so dazzled by the amazing value of the giant package that we buy it, and then never really eat it. That creates food waste and packaging waste."
Make use of scraps.
"My mom always scrubbed her carrots, rather than peeling them," says Mannarino. "As a kid, I thought that was weird. Now, as an adult who's trying to manage the food waste leaving our home, I think it's genius! Eat the apple skins, the potato skins, all the skins! And what you don't eat on the food at the time, you can repurpose. My toaster-oven/air fryer turns those skins into a crispy and delicious snack when I season the potatoes with salt or the apples with cinnamon."
Mannarino also makes homemade broths and stocks from the ends of vegetables, like carrot tops, shitake mushroom stems, broccoli stalks, corn cobs without the kernels and herb stems. She stores veggies scraps in her freezer and turns them into vegetable stock. For more tasty ways to repurpose your scraps, check out Max La Manna, a zero-waste chef.
Read the full article on Fitbit.