The Best Diets for Heart Health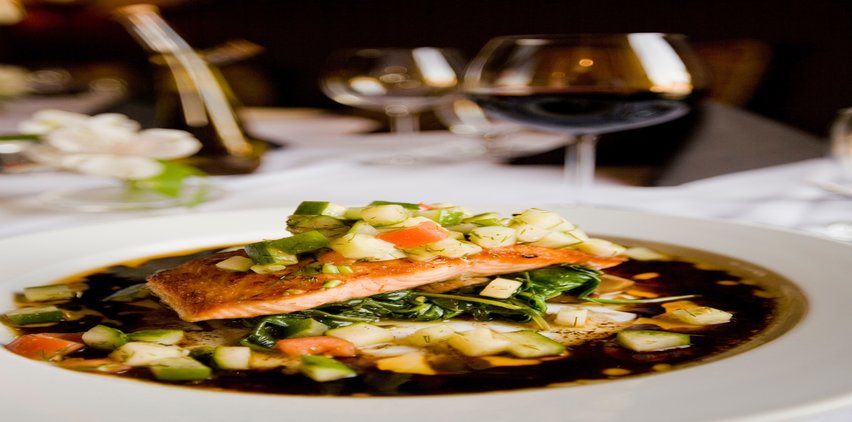 October 11, 2019 | Categories: Health, Weight Loss & Nutrition
This article originally appeared in the 2019 issue of The Complete Guide to Heart Health by Centennial Publishing.
Gone are the days where we're snacking on non-fat or low-fat processed foods and patting ourselves on the back for avoiding fat. For years, doctors thought banning most fats was the key to curing cholesterol and keeping the heart healthy, but in recent years, there's been a recognition that certain fats (including monounsaturated fats like olive oil and polyunsaturated fats like omega-3 fatty acids) are actually beneficial to keeping your circulation and heart strong.
"A low-fat diet is not considered part of the heart-healthy diet today," Susan Ryskamp, M.S., RDN, a dietitian at Michigan Medicine's Frankel Cardiovascular Center. "We encourage plant-based fats, like monounsaturated fats and polyunsaturated fats, and that people reduce their intake of saturated fats and eliminate trans fats."
Here, learn more about heart-healthy diets and how recent diet trends stack up.
The Best Heart-Healthy Diets
"There really are only two diets that are really supported by the literature as having an impact with respect to decreasing the risk of having cardiovascular issues," says Michael Goyfman, M.D., director of clinical cardiology at Northwell Health's Long Island Jewish in Forest Hills, New York. "Those are the DASH Diet [Dietary Approaches to Stop Hypertension] and the Mediterranean diet, because they're the only ones to show sustained impact on health after more than one year."
He cites a randomized trial in Spain published in The New England Journal of Medicine in 2018 that followed over 7,000 participants who were at high cardiovascular risk.  After following up with them nearly five years later, those participants that followed a Mediterranean diet supplemented with extra-virgin olive oil or nuts had fewer strokes, heart attacks and death than among those assigned to a reduced-fat diet. "To me, this was the strongest evidence for why adopting the Mediterranean diet is really the best thing that you can do for your heart health," says Dr. Goyfman. He also says that it's easy to follow and you can eat a variety of foods so there's not restriction.
"The best type of diet for heart-health is a plant-based diet,"  says Lisa Stollman, M.A., R.D.N., C.D.N, based in Long Island, NY. That's a diet that is 50 percent or more from plant foods, which include fruits, vegetables, whole grains, beans, and nuts. "A plant-based diet can be either vegan, vegetarian or Mediterranean. Plant foods are heart-healthy because they are low in saturated fats and contain many phytonutrients, such as lycopene and resveratrol, which are important for heart health."
Plant foods can help decrease inflammation in the body, helping reduce the risk for diabetes, heart disease and many types of cancer, she says.
On DASH, Mediterranean and plant-based diets, you'll focus on whole foods, lean proteins, low-fat dairy and whole grains. When choosing carbs, make sure they are made with whole grains since they're highest in dietary fiber, which can help improve cholesterol levels and lower risk of stroke, according to the American Heart Association.
Fats and Your Heart Health
The American Heart Association recommends 30 percent of your diet come from fats. For a 2,000-calorie diet, that would be 70 grams of fat per day or roughly four tablespoons. "If you are going to have saturated fats, they should be limited to 5 to 6 percent of fat calories," suggests Stollman. "The rest should be from monounsaturated sources and omega-3 fats." These are good-for-your-heart fats because they stay liquid in the body so they don't clog arteries, like saturated fats do, which can lead to heart attack and stroke, she says.
Some of those monounsaturated plant-based fats included olive oil, canola, sesame oil, avocados, nuts, nut butters, and seeds. Fatty fish, like salmon, are good sources of omega-3 fatty acids. Omega-3s can decrease triglyceride levels, slow plaque growth and lower blood pressure some, according to the American Heart Association[1]. All of those foods make up a nice, healthy contribution to both your mono- and polyunsaturated fat intake. "I tell patients that avocado is the new bacon to push that idea home to eat things like avocado toast instead of your traditional breakfast sandwich with meat," says Ryskamp.
One of the reasons saturated fats should be avoided is that they are pro-inflammatory. "It's becoming increasingly clear that chronic inflammation is a root cause of heart disease, as well as many cancers and possibly Alzheimer's disease," says Ryskamp. "You can counter the chronic inflammation by avoiding highly processed foods and eating fresh, whole foods. We recommend the Mediterranean diet because of its focus on whole foods and plant-based fats," Ryskamp says.
Still, be sure to measure out your healthy fat intake. "If you eat too many nuts or go crazy with the olive oil, it's still fattening," says Dr. Goyfman. "Too much of a good thing can become a bad thing.
Your Proteins on a Heart-Healthy Diet
If you're following a mostly plant-based diet, it's recommended you eat fatty fish, like salmon and tuna, and shellfish twice a week. You might decide to try a Meatless Monday or have some vegetarian days while following a heart-healthy diet. "You can do that by eating plant-based proteins such as legumes, like beans or lentils, or unprocessed soy like tempeh or tofu," says Ryskamp.
The reason you're told to limit red meats is because they have more saturated fat, which can raise cholesterol levels.
"If you're limiting probably your red meat to a serving or two a week and eating very healthfully the rest of the week, I say it's okay to enjoy a burger or steak once in a while," says Dr. Goyfman.
Whenever possible, choose lean cuts of red meat that say, "round," "loin" or "sirloin" on the package or a menu. Remember, a portion of red meat is about 3 ounces, the size of a computer mouse.
Should You Go Low-Carb for Your Heart?
"I try to get patients to eat a lower-carb diet," says Ryskamp. The Mediterranean Diet is about 40 percent carbohydrates, 20 percent protein, and 30 percent fat. "Eliminate processed carbs, like white flour carbs or sugary foods, including cakes, pies, cookies, candies. White flour and sugar are pro-inflammatory," she says.
"Add in colorful vegetables and fruits to meals whenever possible for your heart health. "The more colors you have the more nutrient-rich your diet is," says Ryskamp. "With different fruits, vegetables and legumes, you'll get different nutrients that provides a nice platform of richness and health."
"The research looks favorable to go as low-carb as you want," says Ryskamp.
Diets like keto are a difficult diet to stay on for long…but you're eliminating processed carbs, for protein, fat and low-carb vegetables and fruits, she says. "I think that you can still have some unprocessed carbs like fresh vegetables, some starchy vegetables, whole fruits, and legumes." From a cardiovascular standpoint, if you're following keto or a keto-like diet, Ryskamp says it's important to keep an eye on saturated fats. "Eat more unsaturated fats and get them from plant-based sources, like extra virgin olive oil, nuts and seeds, nut butters, and, avocado," she suggests.
Some small studies on the keto diet, like a 2017 one in Nutrients, found that it can improve good cholesterol numbers,[2] and lower blood sugar, both of which can have beneficial impacts on heart disease. Other studies report [3]that this diet that's high in saturated fat can spike LDL cholesterol and triglycerides, even if it's only for a short time.
"What's happening when you go with a lower carb, higher fats diet is that you're getting rid of and avoiding those processed carbs," says Ryskamp. "You're restricting so much and limiting intake that they're effective." She says study subjects may have had the same results is they simply eliminated all of the processed foods, beverages and sugars without having to eat so low carb. "I recommend avoiding processed meats, like sausage, lunch meat, hotdogs and selecting fresh natural animal products when you're choosing proteins on a low-carb diet."
Following a keto diet can be effective for weight loss and some other health benefits for a few months, says Dr. Goyfman. "As long as you adhere to it, you'll have the best effects, but that's with any diet," he says. Your metabolism shifts because of what you're eating on keto, but what you're really losing is a lot of water weight, he says.
A keto diet or low-carbohydrate diet may lower cholesterol because people lose weight from these diets, says Stollman. "But neither diet is sustainable, so people gain back much of the weight they lost or more. And with that added weight comes elevated cholesterol levels. I don't recommend them to clients."
The Most Dangerous Diet for Your Heart
As far as the diets to avoid when considering your heart health, the most dangerous eating plan is when someone that relies solely on convenience foods, says Ryskamp. "In my counseling, I go over the foods patients eat daily and I can tell you that the patients that are relying on convenience food, for the most part, are the least healthy. I encourage them to look for easy ways that they can prepare more meals from scratch."
You don't have to be an amateur chef to get started preparing simple, healthy meals at home. Make your own "power bowls" with an egg, quinoa, greens and some fresh or roasted vegetables. Ryskamp likes to recommend sheet pan recipes to patients where they can bake their proteins and vegetables on one pan with a drizzle of olive oil and bake it at 350 or 400°F for about 35 to 40 minutes, depending on the protein and vegetables you're using.
Are Popular Diets Good for Heart Health?
>Keto: See above. The jury is still out on a definitive answer, but, if you follow the keto diet by eating healthy, unprocessed foods and focusing on plant-based fats, like avocado and healthy oils, you're taking in fats that can benefit heart health, says Erin Palinski-Wade, R.D.
>Weight Watchers (WW): WW promotes losing 5 to 10 percent of your body weight at first, by eating healthy, whole foods and exercising. Losing just 5 percent can help lower cholesterol and decrease your risk of sudden cardiac death or stroke. This could be a heart-healthy plan if the dieter eats wisely and exercises regularly.
>Whole30: Since some of the foods on the Whole30 diet mirror that of the Mediterranean, whole foods, fish, fresh produce, nuts, and healthy fat, it seems that it could be good for your heart health, but the fact that it eliminates whole grains and beans sets it back a few notches on the heart health barometer.
>Atkins: This is a low-carb diet that promotes high-fat eating, without needing to monitor saturated fat intake or measure portions. If you're following this diet and eating a large amount of animal fats, it could increase your risk of heart disease and some cancers[6]. Like keto, if you follow it by focusing on plant-based fats and nutritious foods, it can be healthy for your heart.
>Paleo: This diet focuses on protein from lean (grass-fed) meats, poultry, fish, nuts and seeds as well as eating fruits and vegetables and eliminating processed foods. Some studies suggest benefits of eating this way could lead to better blood pressure control, lower triglycerides, and weight loss, all of which can be good for your heart. The elimination of whole grains is of concern for an overall heart-healthy diet.