The Anatomy of a Dress Shirt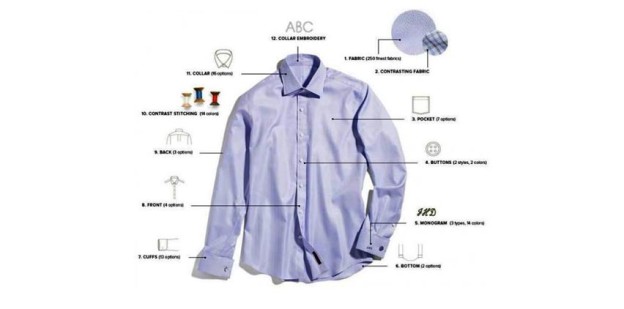 September 1, 2018 | Categories: Fashion
We're pretty sure you've got at least one favorite shirt. It's the one you pull on the morning of a big presentation or slide into before the second date, when you already know you like her and want to look even sharper than your first meeting.
But shouldn't every shirt you put on feel amazing and amass compliments?
It could if it's custom: "With a custom shirt, you have the opportunity to personalize it and make it your own, not just to custom-fit your body, but also to custom-fit your personality," says Jon Patrick, vice president of product at custom menswear company J.Hilburn.
Here, Patrick walks us through everything you'll need to consider when getting a custom shirt made.
Fit and Fabric
"Fit is king, and if the shirt doesn't fit you, you're not going to look good or feel comfortable in it," says Patrick. His company's personal stylists take 11 measurements when they meet with you to ensure they nail the correct fit every time. Whether your traps are larger than the average Joe's, or your pecs are your best body part, you can get a shirt that fits you perfectly and shows off the results of your hardcore workouts. Good luck finding that off the rack.
What your shirt is made of is the second most important factor when creating a custom shirt. Since you'll be taking shirts to the cleaners often, it's important to invest in quality fabrics that withstand all the wear and tear you'll be putting them through. Aim for Italian fabrics (the country is known for producing the best men's shirt fabrics in the world and it's where most of J.Hilburn's shirting mills are located) made of at least 80s 2-ply. If you travel a lot for work and rely on non-iron fabrics so you look fresh when you get off the plane or train, J.Hilburn has higher-quality fabrics than you'd find in typical wrinkle-free shirts you'd buy in a store, says Patrick.
"Remember that a custom shirt doesn't always mean a dress shirt," says Patrick. "It can be casual if you want—linens, seasonal plaids, seersucker—and it can fit every aspect of your life, whether it's work or weekend." Prints are really hot in menswear right now—especially Liberty of London prints, he adds. For a clean look, skip the front placket in a custom design if you're choosing printed fabric.
Collar
Your shirt collar says a lot about your style, and with a custom shirt, you have a ton of options. A button-down collar is best for a casual shirt and looks great with a sport coat, says Patrick. A spread collar works well for a suit. "Cool collars are on-trend in menswear, especially scaled-down proportions, like you'd see in the J.Crew Ludlow suits," he says. That being said, if you have a large frame and a big neck, choose a collar size that's proportionate to your frame. A smaller collar can actually make a large neck look even bigger.
Read the article at Men's Journal.