Surprising Foods That Help You Lose Weight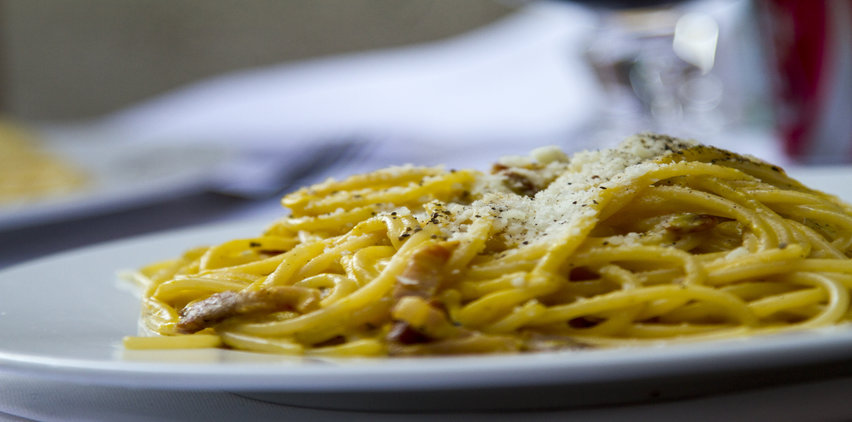 January 12, 2018 | Categories: Weight Loss & Nutrition
Depending on the weight loss plan you're following, you may have sworn off a number of foods for a variety of reasons—perhaps they don't fit into the diet our cavemen ancestors ate, your cousin told you that she read a certain food is terrible for you, or some celebrity said she effortlessly dropped her baby weight by cutting this one food out of her diet. Whatever your reason for eliminating certain foods from your daily diet, we're sharing the reason science supports you adding these wholesome foods back into your plan.
Eat these fall and winter foods for weight loss.
Peanut Butter
Smear a tablespoon of natural peanut butter onto your whole wheat toast in the morning or add it to your smoothie for a source of good-for-you fats in the form of monounsaturated fatty acids (MUFAs). These natural fats can help you lose belly fat, particularly the deep, dangerous visceral belly fat that can surround your organs, according to research. Is there ANY reason you shouldn't eat peanut butter.
Whole Wheat Bread
Banned bread from your kitchen because it doesn't fit into your low-carb lifestyle? Eating whole grains instead of refined grains could help speed up your metabolism and help you have a loss of 100 calories a day, according to a 2017 Tufts University study. If you're not eating whole grains in the form of whole wheat bread products, oats, barley, and brown rice, you might be missing out on important nutrients like fiber, B vitamins, and minerals. One whole wheat slice of bread might have between 12 and 20 grams of carbs, so you should still be able to reduce some of your daily carb intake and work this grain into your meals and snacks.
Avocados
Passed up the guacamole because you're concerned about avocados being high in fat and calories? They have good-for-you fats in the form of monounsaturated fatty acids and polyunsaturated fatty acids. One study found that when people ate more polyunsaturated fats over saturated fats, they have more gains in muscle mass, and less body fat than people in the study that ate a similar amount of saturated fat. Another study found that avocado consumption was associated with a better diet quality and nutrient intake overall. Slice 1/3 of an avocado to serve with your omelet in the morning, toss ¼ cup into a mango smoothie, or dip fresh veggies into guacamole for a filling snack that will keep you satisfied with the healthy fats.
Pasta
If you said arrivederci to pasta during low-carb diet phases, welcome this Italian staple back into your lifestyle. You can eat pasta and still lose weight. There. We said it. The trick is to keep your pasta portions in check, eat whole grain pasta whenever possible, and round out the meal with lean proteins, lots of veggies and lighter sauces. Whole grain pasta will fill you up so you feel satisfied. Depriving yourself of something you love to eat is only going to set you up for failure later—when you binge into a huge plate of creamy pasta and feel guilty about it and then ditch your healthy eating place. Besides that whole grain study we mentioned earlier, other observational research says that diets with whole grains in them are associated with lower body mass indexes (BMIs) and improved cardiovascular health. So have pasta tonight! Just make sure it's whole grain and keep your serving size to one cup.
Read the full article 6 Surprising Foods That Can Help You Lose Weight on DoctorOz.com.