New Year's Eve and the FDNY: The Busiest Night of the Year for the Fire Department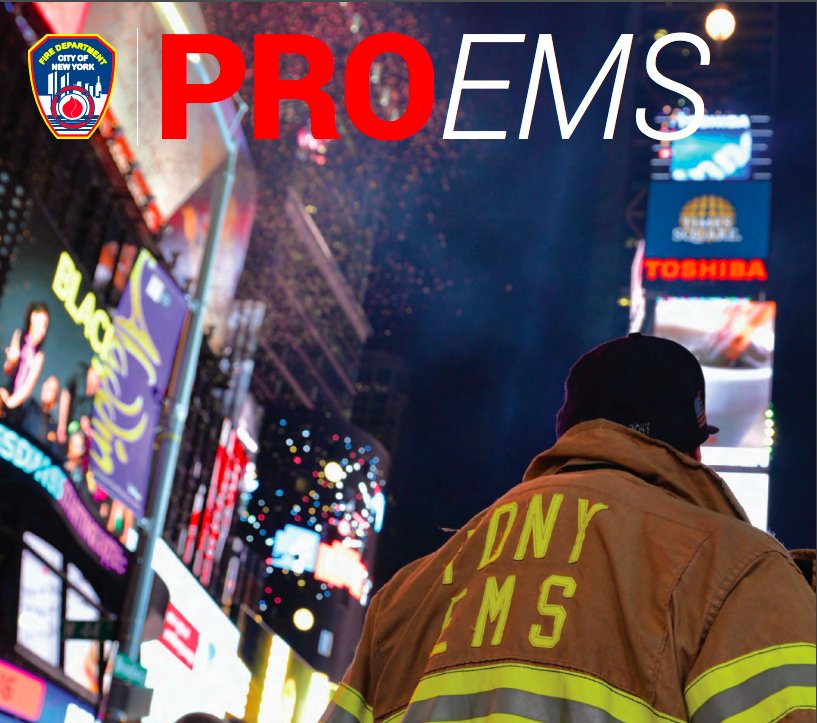 December 29, 2017 | Categories: Others
On December 31st, the FDNY has more ambulances on the street than any other night of the year. Ringing in the New Year in New York City. This year, there were 4,913 medical calls, up approximately nine percent from last year, a number that continues to climb every year.
When approximately 2 million people from around the world gather in Times Square on New Year's Eve to watch the ball drop, the roar of the crowd is deafening, cell phones can jam up communications, and the sheer force of the crowds can make it difficult for ambulances to get through. Put simply, this means that FDNY EMS has its work cut out for them when one year comes to a close and the next begins.
"I've worked New Year's Eves all over the City," says Chief of FDNY EMS, James P. Booth. "Over the past 34 years I've worked the Times Square event probably a dozen times," Chief Booth says.
Deputy Assistant Chief Fred Villani is the Chief of Planning for the Times Square New Year's Eve event. "The first year I was assigned to work New Year's Eve as part of EMS in 1983 was the same year we had multiple bombs go off around Manhattan and Brooklyn." Several police officers were hurt and the Puerto Rican Terrorist group F.A.L.N. (Fuerzas Armadas de Liberacion Nacional or Armed Forces of National Liberation) were suspected. Chief Villani took over the planning 2004.
EMT Shawna Mitchell is a 10-year veteran of the Department and worked her second New Year's Eve in Times Square this year. "I said I would never go down there if I wasn't working. But, after being at the event, in the chaos of it all, when it comes down to that countdown, you just really have that feeling of the excitement. It sounds cheesy, but the moment when we all come together and bring in the New Year together is a great feeling. I can see why people come from around the world," she says.
Though Chief Booth is responsible for all of New York City on New Year's Eve, he makes sure to visit Times Square to look at the venue and meet the Medical Branch Director, to interface with the Incident Commander, and do a walk-through of the entire venue. "That gives us situational awareness and it also gives us visibility to the troops to let them see who we are and that we're out supporting their efforts. Once they're in place, we come down and say hello to everybody, shake hands. We wish everybody well and thank people," says Chief Booth. "It also allows us to make any last-minute changes to something. The FDNY Planning Unit does a really good job of setting that event up, but once the event starts, sometimes you need to tweak something left or right, like changing the location of an ambulance on a certain street. For the most part, the planning team really executes the Incident Management Action Plan (IMAP) well."
"On New Year's Eve, expect the unexpected," says Captain Nicholas Barker, Emergency Medical Dispatch (EMD). "Since I first started working this night in 2008, the security at the event has changed over the years as well as the response that we have. We had 42 patients this year. It's not a tremendously patient-exorbitant environment but it has the potential to be, especially in today's environment."
Preparing for the FDNY's Busiest Night
The FDNY began preparing for 2017 soon after the Ball dropped in 2016. "We start planning for next event soon after New Year's Eve, while it's fresh in everyone's heads," says Chief Villani. "We ask for an after-action review, ask Officers and Chiefs about what their experience was, what worked, what didn't work, suggestions they have for improving the next years. We look at patient counts to see how much work we did, Fire alarm investigation teams, if anything unusual happened in the event zone, get that while it's fresh and use that for the following year's plan," Chief Villani says.
The FDNY Planning Unit evaluates what's available to the Department when putting together the written plan, says Chief Villani. "In late November, we had a large planning meeting to talk about the New Year's Eve event. We got together with Incident Command, Medical Branch Director, Fire and EMS Communications, all the players within the Department to talk about the event and what needs to be modified," says Chief Villani.
"In this current day and age, you want to make sure that the boots on the ground know exactly what the threats are and what's going to be expected of them should something occur at the event," says Chief Booth. "We get the tourniquets out, we make sure people have their personal protective equipment, their masks and we make sure that they're fully aware of current threat environment."
Staffing and Dispersing Members
Two months before the event, the FDNY puts a bulletin out requesting volunteers for the event.
Approximately 300 member of the FDNY were assigned to the Times Square New Year's Eve event, says Chief Villani. That's made up of about 100 EMS, about 185 Firefighters, plus Fire Prevention Explosives Unit, communications, and Fire Marshals, he says. "We also handle 911 responses for medical emergencies that aren't taking place in Times Square as well as respond to calls that are taking place in close geographic proximity to it," says Chief Villani.
Additional FDNY members were assigned to support Marine Operations, fireworks in Central Park for the New York Road Runners' event, fireworks in Prospect Park, and the Coney Island New Year's Eve celebration which often has between 2,000 and 6,000 spectators attend, says Chief Villani.
"Due to the larger number of party boats on the water that night, the Marine Division puts out extra resources and we staff three boats with Paramedics for any medical emergencies that may occur," says Chief Villani. Since there are also fireworks in the New York Harbor, the FDNY Explosives Unit from the Fire Prevention Bureau is stationed nearby, says Chief Villani.
On December 31st the FDNY has more ambulances on the street than any other night of the year. "From New Year's Eve into New Year's day morning, we operate and keep the coverage the same as we would on our peak tour, the afternoon tour," says Chief Booth.
Ambulance deployments around the city are the same ones the FDNY uses every other day, and Chief Villani's Bureau is responsible for the specific placement of the ambulances and Gators around the event. We work in close coordination with the Police Department for the Times Square Event, says Chief Villani. "We have to make sure our operations are coordinated. NYPD is the overall Incident Commander of the public assembly event. NYPD is aware of and sensitive to the Fire Department's needs and we are aware of and sensitive to the Police Department's needs. When there is an issue with coordination, we come to an agreement quickly. For example, if NYPD doesn't want one of resources parked on a particular block, we find a different place for it. If our units need help with crowd control, we reach out to them immediately."
Prepared for Anything 
This year, Division Chief Alvin Suriel oversaw the FDNY/EMS operations in Times Square and had two Deputies assisting him. "We had sidebar meetings until the day of the event and up to the week of the event we tie up any loose ends. On New Year's Eve, we meet with all the Lieutenants, Captains and EMT's and Paramedics that are involved in the event," says Chief Suriel. He stands at a Command Post and oversees the operation and communications. "We're monitoring the calls for help and the units being sent to the assignment. We keep an eye for when there are multiple calls on anything; that's always a flag for us. If we're getting numerous calls on different kinds of things happening at one location, we monitor for those kinds of incidents," says Chief Suriel.
"We've been on high alert for some time, and we had the same concerns as last year," says Chief Suriel. "Obviously having everyone get home safe is the number-one priority. My biggest concern this year was someone like a ' lone-wolf,' who decides, 'I'm going to go on my own and I'm going to do this.' You can't predict that, you don't know who that is or where they're at in the crowd. So that was what was on my mind."
Last year, an FDNY member identified a civilian in the Times Square who was dressed in an FDNY Paramedic shirt, but their patches were on the opposite sides that they should be. "The member questioned the man, and then he started to run. They notified the NYPD, and he was immediately swept up, and charged. I don't know what he was doing, but it wasn't malicious or anything else like that," says Captain Barker. "Again, stuff like that can absolutely happen, so you became more cognitive of it."
The Call Volume
For 2016 call volume was highest on 01/01/2016, (4,870 incidents), that's a lot more work than the lowest call volume day of 3,172 on January 24,2016. The number has only been increasing over the years. This year there were 4,913 calls on New Year's, in 2016 there were 4,870, in 2015, it was 4,574, and in 2014 it was 4,394.
"The patient count in Times Square was pretty close to where it's been the last eight years. It'll vary by about 10 patients. The highest number since 2008 was 51 patients in 2012, and the lowest was 39 in 2010," says Chief Villani. The Times Square Event has about 2 million people attending.
To handle the volume of 911 calls that come in on this night, we put a system within the EMS system, says Chief Villani. "It's designed to cover the geographic area around Times Square and the blocks north of it so the event doesn't become a burden on the regular 911 system."
Captain Shari Landsberg is a Citywide Dispatch Supervisor and supervises the 911 Center for EMS in Brooklyn. She's been with EMS for almost 29 years and has worked 20 New Year's Eves. "We know that once the ball drops, usually the call volume jumps dramatically. It's busy before that, but typically people tend to wait before they want to go to a hospital because they all want to see the ball drop," says Captain Landsberg. "We have an extra person in a 'relay position,' so they're accepting the calls right after midnight when the volume increases."
The 'Relay' is a special position staffed by an Assignment Receiving Dispatcher (ARD), also known as "Call taker", 24/7 and normally, they are entering calls that are routed via computer from the NYPD. During periods of high call volume such as New Year's, if all of our ARDs are on calls and additional calls come in, rather than having to hold the call to wait for an available ARD, the call is sent to Relay where it is entered based on Police Department code and information is received without talking to the caller. This ensures the call is entered promptly even if an EMD ARD is not available, says Captain Landsberg.
On a typical Saturday night in New York City, EMS may get 150 to 200 calls an hour around midnight. On New Year's Eve, Captain Landsberg says EMS averages about 350 calls an hour from 12 a.m. to 5 a.m.
How the calls are broken down:
If a call comes in that's identified as being linked to the Times Square event, then it gets transferred to the Citywide dispatch board (special event board) that is handling only the event. If the call inadvertently gets routed to the Manhattan Dispatch Board, it'll be transferred to the Special Event Board to be handled by a unit assigned to the event, says Captain Landsberg.
"We try to keep the energy in the Call Center upbeat on this night, but for the most part everybody is focused on doing the job, so they can get the calls dispatched, get them processed properly, and move on to the next call. You know the next one's right behind it," she says.
"This year was one of the smoothest I've ever seen," says Captain Landsberg. "All Ambulances and Supervisors were utilized effectively so the jobs went out within the event zone and across the city pretty quickly. In my experience, based on previous years' worked, the number of calls waiting to be dispatched this year were fewer than in previous years. Typically on New Year's, due to the high call volume, low-priority calls may have to wait a short while before being dispatched. While the call volume was similar to last year between midnight and 5 a.m., I could see on the screens that we had less low-priority calls waiting to be dispatched this time," she says.
"Members in Emergency Medical Dispatch Center were busy. I had call takers that processed 100 to 120 calls in an 8-hour shift. Once they were finished with one call, there would be another one to answer within a minute. They were had 15 to 20 calls an hour," says Captain Landsberg.
When NYPD transfers a call for EMS to our ARDs, the landline location or the ani/ali location of the closest cell towers displays on that ARD's map, says Captain Barker.  Depending on the proximity to the special event, the FDNY CAD system will automatically prompt the same ARD to ask if their call for help is associated with the New Years Eve event, Captain Barker explains.  The same ARD takes down all pertinent information regarding the condition and location of the patient, drops the assignment to the appropriate location and then gives pre-arrival instructions to the caller.  Depending on the caller's response to the event question, the ARD will either drop the assignment to the regular Manhattan Dispatch frequencies or Citywide 2, the special event frequency.  "It is actually not as complicated as it may seem.  The ARD just utilizes a slightly different command, when prompted, and the assignment automatically is sent to the appropriate location," says Captain Barker.
Though they tend to be heavily skewed to alcohol- and drug-related incidents, 911 calls run the gamut on New Year's Eve. The members we interviewed here say the FDNY responds to car accidents, asthma attacks, heart attacks, illnesses, diabetics with health issues, and problems in Times Square related to standing out in the cold for hours, possibly not eating enough or drinking enough, like dizziness and fainting. The list goes on.
"If we start getting a number of calls for a specific thing in one area, like inhales or chemical odors, we're on high alert that this may be something of concern. Especially for around the event at Time's Square on New Year's, it's going to be one of the prime locations to be concerned with. So, we're just looking for anything that might be suspicious," says Captain Landsberg.
Patient Tracking in Times Square
"At the end of the event, none of our members can go home unless every single patient that was transported, spoken to, or maybe refused care is accounted for. If someone called 911, or, if we had knowledge of a patient, and EMS made patient contact, I need to know their name," says Captain Barker who was based at the Mobile Command Center on 42nd Street and 7th Avenue to establish patient tracking. "I need to know what hospital they went to if and how serious their condition was." In the Command Center with Captain Barker are four Citywide-trained dispatchers that hear all the transmissions and all frequencies.  They're in charge of putting the Time Square Event patient information in the database updating it throughout the call transfer. "There are four more Citywide dispatchers in Brooklyn monitoring the Times Square Event," says Captain Barker.
"Citywide-trained dispatchers are trained well above and beyond Borough dispatchers—they're among the most experienced dispatchers and their decisional capabilities make them an invaluable asset," says Captain Barker. The Citywide dispatcher manages resources from all Boroughs, while coordinating with numerous other emergency agencies, to provide the most appropriate response to major incidents, Mass Casualty Incidents (MCI's) and high security assignments.
The Brooklyn-based Citywide dispatchers are transmitting the jobs, obtaining the patient's disposition (what hospital the patient was transported to or whether they refused medical attention) and gathering any other important information," says Captain Barker.
There's also a second Mobile Command Center that's at the Fire Department's Incident Command Post, and the NYPD has their own mobile Command Center.
This year at the Times Square Event there were 42 patients, 27 transports and 15 RMAs. More 911 calls were received than that but by the time EMS crews arrived, the patient has disappeared or the people there denied that they called.
The dispatchers at Times Square were either assigned to the field Manhattan Command Center or Public Safety Answering Centers (PSAC-1).  The dispatchers inside PSAC-1 in Brooklyn receive assignments from the 911 call takers; also ARDs and Citywide are responsible for assigning the appropriate Special Event unit(s) that are closest to the location.
Finding the Patient Needle in the Pen Haystack
Some pens hold 100 people, others contain 500. They're metal barricades that look like bike racks and are set up by the NYPD to create areas for the public to view the event and to maintain safety lanes. By keeping the spectators in a pen, they are prevented from moving around, and that prevents them from clogging safety lanes and cross streets, says Chief Villani.
"It can be extremely difficult finding the patient, because a lot of times, someone calls on their cellphone from a pen, and they don't know what streets they're on or where they're located in Times Square," says Captain Barker. "If we get to an incident and we don't find a patient, we do a callback. You try to re-contact the person that called 911; ask them questions, ask them where they are. Finding them is absolutely a task in and of itself. Then, obviously treating them, in a pen of a few hundred people, can be challenging we'll say," says Captain Barker.
Since EMS ambulances cannot get around the Times Square event, they use Gator units. "Crews on Gators respond to everything within the Times Square event and then, bring the patient out to 6th or 8th Avenues where a crew in an ambulance would then meet them and transport the patient to the hospital if necessary," says Captain Barker. Since the Gators can't fit into the pens, upon arriving, EMTs will often alert the police officer that is in charge of that pen that they're responding to a call and get help moving through the crowd.
"We're trained to treat and transport, but you definitely need awareness," says Mitchell. "In our rundown of the things that you do before you get to a patient, team safety is definitely at the top. You need to be sure you're going to be okay before you treat the patient, because if you're not, you're not able to help anybody. I trained coming into this to be very vigilant of my surroundings. With so many people in Times Square, a lot can happen in just a split second."
Mitchell was on foot with a Lieutenant this year and wearing a Bone Mic, a headset that sits on your temple, right by your ear. All of the EMS members on foot and in the Gators wear Bone Mics. "This allows me to hear the job transmissions coming over the radio throughout the loud music and walking through the crowd," she says.
Since she's on foot, Mitchell responds as quickly as possible to any jobs coming over the transmission and assesses the patient. "Once we get to the pens, we assess the situation with the patient and then if it seemed that the patient needed to go to the hospital, we'd have the Gator bring the patient out to ambulances that are set up on the outer streets. Escorting a patient through the Times Square crowds is difficult, as you can imagine," Mitchell says. She says the NYPD are a big help and usually the ones calling in the incident so they are aware of what's going on, where the patient is located, which can help the patient get care even faster.
The FDNY also staffs up the event with four emergency physicians from the Office of Medical Affairs. Rather than having to rely on the 24/7 On Line Medical Control Center (OLMC) for "telemetry," should communications be difficult, these physicians assigned to specific sectors in the Times Square area and can provide medical oversight to EMS when it comes to administering patient care, says Captain Barker.
Dispersing Resources
Soon after the ball drops, the FDNY works with the NYPD to secure the event and clear people out so the Department of Sanitation can get in and clean up. "Call volume jumps after 12 a.m. and continues to spike throughout that night, so this year, we analyzed last year's workload after the Times Square event," says Chief Booth. The planning committees looked at Manhattan between 12 a.m. and 6:00 a.m. where their call volume was coming in from on January 1, 2016 and the sections of Manhattan that had more calls. "That gave us challenges, because we didn't have resources in those areas," says Chief Booth. "You have to figure that there's always going to be a New Year's party at certain clubs and these places are pretty static. What we did this year is, we looked at last year's workload and when Times Square members finished up for the evening, we redeployed them into the areas where we had heavy workload last year," says Booth.
Why It Was a Success
"I felt confident that we were well-prepared," says Captain Barker. The people I'm directly responsible for absolutely excelled. I invited them all back again to do it next year. Both personally and professionally, it's a great group of people. The leadership we had was great this year and has been for the last couple," he said.
"You're that person to be there and help at somebody's vulnerable time. People look to you as that person to help them, but you also see that people are very happy you're here, and for all that you do. It's a personal satisfaction for me to be able to share in that with the spectators during the Times Square event," says Mitchell.
"You can always learn from the assignment. You can never stop learning," says Chief Booth. "When you become complacent and think you know everything there is to know because you've done New Year's Eve 10, 15, or 20 times, there's always a nuance that you have to pay attention to. There's always something that changes. It could be the behavior of the crowd, the ability of social media to cause flash mobs. The change in the threat levels that we manage today, we didn't have to worry about that in the '80s. We didn't worry about chemical attack or active shooter, bombings, or those kinds of threats. Back then the biggest problem in the '80s when I was on the ambulance was all the drinking and disorderly conduct in Times Square. You used to have to wear a helmet to protect yourself from bottles being thrown," says Chief Booth. "The success at the event is a product of the members that work there. The reason it goes so well, the reason it's an organized approach to our mission, is because of the dedication, the training, and the execution of the plan by all of us."
"Instead of being home with your family and friends, you're out there in the crowds trying to watch what's going on. You're trying to assist people who are sick or need your help. To me that's great. I take a deep breath at the end when I know it's over and everybody is safe and no one got hurt. That's the icing on the cake," says Chief Suriel.
 There's Always a Backup System in Place
"We always have a backup plan and backup servers," says Captain Landsberg. "Thankfully, we haven't had any issues with computers going down on New Year's. The same experienced members are working on New Year's Eve who have worked through routine maintenance where the computer system comes offline briefly during the Tour 1 (midnight shift) when officers, Radio Dispatchers (RD's) and Assignment Receiving Dispatchers (ARD)'s are working. So the people who are working on New Year's Eve are very well versed, trained and skilled in this process of the system coming offline. "God forbid something like the system going down on New Year's would happen, the training and the experience they've had with it would kick in," says Captain Landsberg. "It would potentially take a little bit longer to process each call but it would still get done since the EMD members have likely handled similar situations on their shifts before."
This article originally appeared in the FDNY's Pro EMS magazine February 2017.