Need-to-Know Wine Info for Beginners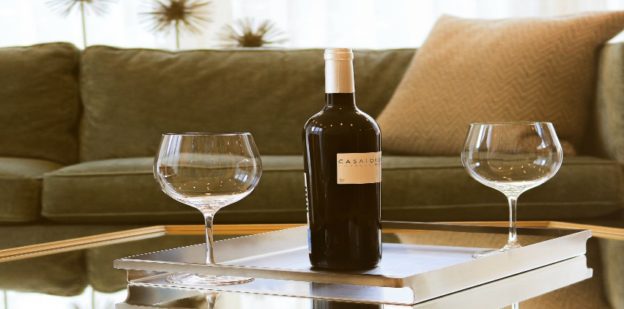 July 16, 2019 | Categories: Health
Ready to expand your horizons into the world of wine but unsure of where to start? Help is on the way.
We've gathered the best advice on how to enjoy wine to the fullest – when you're dining out, pouring a bottle at home, or giving it as a gift – from wine expert Leslie Sbrocco, author of Wine for Women (William Morrow, 2003) and The Simple & Savvy Wine Guide (William Morrow, 2006), as well as our own WeightWatchers.com Message Board users.
How to Order Wine, Buy Wine, and Sip Wine
At the Restaurant
Decoding the Wine List
The best way to find a wine that you and your table will enjoy is to speak with your server or sommelier [saw-mel-YAY]. Explain the kind of wines you like, and name some producers, suggests Sbrocco. This will convey your preference and price range. In a business situation, Sbrocco explains that you can discreetly clue your server in on the price range you're looking for by discussing the wines you like and pointing to an item on the list, saying, "I like something like this."
If everyone at the table has different tastes, it's perfectly fine to order by the glass–this will give you more room to try adventurous, fun wines. If the menu has an "alternatives" section, that's where you'll find the "funky stuff" that tends to be more affordable, says Sbrocco. Some great examples include Argentinean Malbec (medium-full bodied red that's vibrant and earthy) and crisp and spicy whites such as Gewürztraminer [geh-VEHRTZ-trah-mee-ner] and Grüner Veltliner [GROO-ner FELT-lih-ner].
Smelling, Swirling, Sipping
Your server or sommelier has arrived with the bottle you ordered–now what? "Number one, don't worry about smelling the cork," Sbrocco says. When the server opens the bottle and presents her with the cork, Sbrocco looks at it to make sure it's intact and moist, then puts the cork down. Swirl the wine in your glass to release the aromas and then smell it; that's the most important part, Sbrocco says. The wine should smell fresh, like lots of fruit. Take a sip and, if it tastes fine, say "thank you" and have the server pour it around.
Casual Wining and Dining
Red, White and Pizza
Beer isn't the only drink that goes with pizza. "When you think about it, pizza is cheese, bread and sauce–sort of the 'holy trinity' for wine," Sbrocco says. Try a glass of Chardonnay–a hint of smoky cheese pairs nicely with lightly oaky Chardonnay.
If you like red with pizza, try Chianti. It has enough acids to break through the richness of the cheese, and it goes well with tomato sauce, says Sbrocco.
With veggie pizza, Sbrocco favors whites, such as Orvieto, a bright Italian Sauvignon Blanc. "It really picks up the crunchy herbal character of a veggie pizza, and goes especially well with mushrooms and bell peppers."
Popcorn, Chips and Salsa
"One of my favorite snacks in the world is potato chips and bubbly," says Sbrocco. On her list of favorite, inexpensive (usually under $10) sparklers is Prosecco "Brio" from Italy and Cava Brut from Spain. "These go great with chips, Doritos®, popcorn–anything really salty."
With chips and salsa, a Sauvignon Blanc-based white or high-acid red like Pinot Noir are nice complements to tangy, spicy tomatoes.
At Home
Basic Equipment
Start out simple: Wine glasses, a foil cutter and a corkscrew. Sbrocco recommends affordable, all-purpose glasses with generous (16- to 22-ounce) bowls. Why so big? You'll have plenty of room for swirling and less opportunity for the wine to end to up on your carpet or you! Sbrocco likes thin crystal because it's thicker than glass. Plenty of stores have affordable crystal glasses for about four to six dollars a stem.
A simple "waiter's friend" corkscrew will cost around $5, while lever-style cork pullers can average from $20 to $100. A foil cutter simply cuts the top foil section from the bottle so a corkscrew can be inserted. This is also a great tool to attach to a gift bottle of wine.
Preserving Your Wine
"Keeping wine in the refrigerator will extend its life," says Sbrocco. Depending on how delicate the wine is (lighter wines have a shorter life span than bigger, more alcoholic ones), three to five days or more is the average life of an opened bottle.
Buying Wine: Mastering the Store
One of the best tips we can offer you is this: Don't be afraid to ask for help. If you prefer to buy from a liquor store, ask for someone who knows the wine section well. Learn how to phrase your needs. Do you prefer fruity, sweet or dry wine? If you are looking for something with a smooth finish that's lower in tannins, say so. Do you want a lighter wine with less alcohol per volume? What's your price range?
Gift Giving
A great bottle of wine is a fantastic gift. Whether the occasion is a housewarming, dinner party, bridal shower or birthday, an impressive bottle never goes out of style. Sbrocco has a few budget-friendly favorite wines that come in great packaging: Cateana Malbec (Argentina); Concannon Chardonnay "Selected Vineyards" (California); and Perrin Brothers from France are all in the $10 range. We also like the Italian sparkling white white Franicacorta from the northern Lombardy area of Italy. It's been referred to as the Champagne of Italy and you can find a nice bottle for under $40.
How can you turn a delicious bottle into an even better gift? Add a personal touch. Sbrocco suggests putting a favorite recipe on a pretty note card and tying it around the bottle. When giving sparkling wine, Sbrocco likes to attach a little bag of gourmet nuts or unpopped popcorn.
Are you considering giving an after-dinner wine? Sbrocco recommends the sleek, clear bottle of Warre's Otima, a Tawny Port. "It's a lovely, sweet dessert wine and I like to package up some caramels and nuts with the bottle. It makes a great gift."
* Prices vary and wines may not be available in all areas.
Read the full article on WeightWatchers.com.