Muscle & Fitness Hers' Cover Profile: Paige VanZant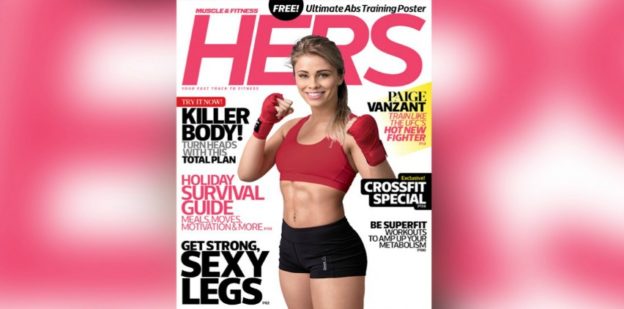 December 16, 2016 | Categories: Fitness
At just 22, rising UFC star Paige VanZant is already showing how she can take on MMA and multimedia. Just don't under­ estimate her power.
If you come across UFC fighter Paige VanZant outside the Octagon, your first instinct might be to give the beaming blonde a hug. But if you're going to spar with her, you might want to duck. At 5'4″ and a fighting weight of 115 pounds, the Sacramento, CA ­based strawweight has a vicious kick, strong leg locks, and a 7­2 record, with two knockouts and two submissions among her wins. The former cheerleader, dancer, and model got into mixed martial arts after her dad took her to a local MMA gym. It took only one class for her to fall in love with it. She began competing as an amateur at age 18, winning her first fight in just 50 seconds, and went pro two months later, making her debut in June 2012 and her first UFC fight in November 2014.
After suffering a devastating submission loss to Rose Namajunas last December, "12 Gauge"—as VanZant's known in the MMA world—was the ultimate comeback kid in 2016. She took second place in ABC's Dancing with the Stars, then defeated Australian Bec "Rowdy" Rawlings in August with a powerful high kick and several hard punches that garnered her the TKO.
SEE ALSO: Meet The UFC's Youngest Breakout Star: Paige VanZant
But although she's crossed over from the Octagon to the screen, starting with Dancing with the Stars, VanZant insists she's not following the path of UFC megastar (and Hollywood darling) Ronda Rousey. "I'm my own person and am going to take every opportunity that I'm passionate about—but at the same time balance it with my fight career." In fact, VanZant pulled out of the film Kickboxer Retaliation because timing interfered with her prep for the Rawlings fight.
Read the full interview with Paige VanZant from Muscle & Fitness Hers' September 2016 issue here.