Meet UFC Fighter Paige VanZant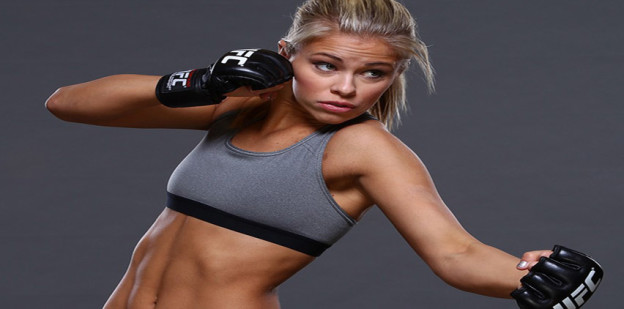 September 30, 2019 | Categories: Fitness, Profiles
(Originally published on MuscleandFitnessHers.com in April 2015.)
The former cheerleader, dancer and model is new to mixed martial arts (MMA) but UFC fans took notice of Paige VanZant when the 20-year-old from Sparks, NV, won the biggest fight of her life last fall during the UFC Fight Night 57. In the second fight of the card, VanZant defeated opponent Kailin Curran by TKO in the third round. Here, the 5'4" fighter (nickname "12 Gauge") with a 4-1 record talks about her big win, her upcoming fight against Felice Herrig in New Jersey, how she got into MMA, and her fight goals for this year with the UFC.
On Saturday, April 18th, VanZant goes up against UFC strawweight veteran Felice Herrig in the UFC on Fox 15. In an interview days before the fight, VanZant says, "I'm very excited for the fight and it's always a happy time when you get to be back in the cage. We work so hard for every fight, this is when everything finally pays off." As for going up against her 30-year-old competitor Herrig, who's been fighting for 12 years, VanZant says, "She's got a lot of fans and is a bigger name and it's awesome I get to be on a bigger stage in the UFC. We're going to bring a lot of draw to the fight." excited and blessed to be in the Fox card and the UFC has been amazing to me so far."
Here, the 5'4" fighter (nickname "12 Gauge") with a 4-1 record talks about her big win, how she got into MMA, and her goals for this year.
Get to Know UFC Fighter Paige VanZant
Why was your most recent victory such a big deal?
The Austin, TX UFC debut against Curran…it was the biggest victory I ever had, it was the biggest card in the world for UFC, and I won by TKO in the third round. You always plan on it and want to finish your fight. I'm in a small weight class where it's hard to get knockouts and…hard to get finished, we're all small and scrappy. I was blessed I was able to pull off that win. I'm the youngest in strawweight class (115 pounds), and I believe I'm the second youngest in the UFC.
What's your training day like?
Building up to that fight every morning I went to CrossFit, two days a week worked with a personal trainer and I'd get my conditioning out of the way. In the afternoon I would be in pro practice, where I'd work on sparring, technique work, everything that has to do with MMA, then at night I'd go to 24 Hour Fitness to work out on the treadmill or stair stepper, then sit in the sauna to cut weight. I give myself two weeks to cut weight, only treadmill and stair stepper and 45 minutes to an hour depending on how much I need to sweat. Usually I lose 15 to 17 pounds in two weeks. It's important to getting the water going in and out. I worked with a nutritionist in the past and I pretty much have the weight cut down, so I can do that by myself.
What do you eat on a regular basis to stay fueled up for tough workouts?
I try to eat healthy, I drink a lot of coffee in the morning. I love raw almonds and snack on them throughout the day, and I eat natural kale chips. I like to cook and make my own curry chicken because it's lot healthier than you'd get in the restaurant. I substitute a lot of ingredients from the recipe for a healthier version. definitely have cheat days after weigh-ins and after a fight. That's when I'll eat candy, burgers, and I love Mexican food.
What are the workouts like when preparing for a fight?
The hardest thing was picking up the new techniques with Crossfit. I injured my back in training a while ago and working through the injury, strengthening those back muscles again and working through that was the hardest thing when preparing for my most reent fight. I've been doing Crossfit for about a year. I think all fighters have some sort of conditioning routine outside of just training. I really enjoy Crossfit and was able to work with a personal trainer while doing it. I love doing squats. I like to power clean with squats. I love the leg workouts but I feel it the most the next day.
Tell us about how you got into fighting.
My dad was a wrestler in high school, a huge fan of MMA and a huge fan of the fighting sport. When we moved to Reno, he knew Ken Shamrock who had a local gym and he encouraged me to try a class with him and I instantly fell in love with the sport. I started competing at the amateur level age 18, had one fight which I won in 50 seconds, than went pro.
Which athletes do you look up to?
I have to look up to Ronda Rousey, she was one of the faces of Women's MMA, she made people want to watch women in the sport. Forrest Griffin was one of my favorite fighters to watch, even before I got into MMA fighting and tried it myself. I met Forest and he is super nice.
What are your goals for the rest of 2015?
My goal is to win every UFC fight that the UFC offers me, I'm going to take whatever they give me. Beyond that I want to win the strawweight belt. I have to keep winning fights, then the UFC will offer me a chance at the title. If I made it that far, as of right now, my toughest competitor right now is Carla Esparza who holds the 115-pound belt title. There is a chance the belt could go to somebody else, she could lose the title.
What do you enjoy doing during downtime?
I love to cook, it's one of my passions. I love going to movies, and I love taking bubble baths. Pretty much anything that can help me relax.
Does your family watch you fight?
My dad's going to go to my fight in New Jersey on April 18th. My mom refuses to watch me fight because it makes her sick [laughs]. She's very supportive, but it's way too hard for her to watch me fight.
Any advice for our readers to help them stay motivated and focused:
Follow your dreams, I never knew I'd be able to make it this far in MMA this young and just kept at it. I didn't listen to what anyone else told me I could or couldn't do to make it big, and I finally made it.
Photos courtesy of UFC.