How to Motivate to Work Out When You Don't Want to Leave the Couch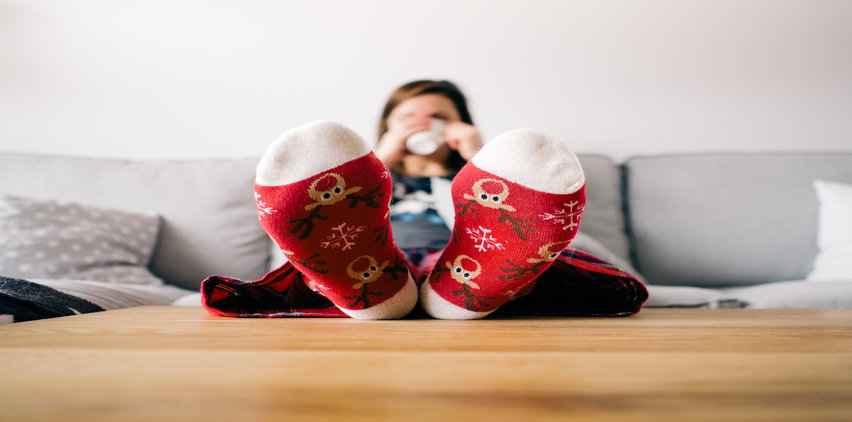 December 31, 2018 | Categories: Fitness
If only couch sitting and thinking about exercising burned calories—we'd all reach our fitness goals in no time. For me, turning the idea of working out into actually motivating myself to start moving is a bigger challenge than the exercise itself.
I tapped fitness experts whose jobs are to motivate wannabe exercisers for a living. Here are their tips for getting off that warm, inviting sofa this winter. (Here are more ways to find workout motivation when you'd rather veg.)
"A lot of people aim too big too soon. Maybe you've been stuck on the couch for months and with New Year's arrival, you're ready to move again. Start small. If you do too much too soon you'll either burn out or get injured. Small wins are the way to go, as they will lead to eventual habits. Write down a small goal so you're more likely to stick to it: 'I will get off the couch three days this week to walk for 20 minutes outside.' Note the specificity of the goal—how many days, how long and what the activity actually is. If you're vague with the goal (i.e. 'I will move for 20 minutes'), you're less likely to actually do it."
— Chris Heuisler, the Global Run Concierge for Westin Hotels & Resorts, Road Runners Club of America (RRCA) certified coach
"We all go through slumps and sometimes we require different things to trigger our motivation to get back out and try again. When I don't feel like exercising, I make it a point to attend a group fitness or cycling class. Classes are a great way to get a workout in; and I don't have to think about what I'm doing for the workout. When I'm feeling sluggish and need a push, I play a game of 'Would you rather?' in my head. It could be, 'Would you rather be disappointed at bedtime for not exercising? or, 'Would you rather squeeze in a quick hotel room workout before dinner?' The answer is always working out."
— Nikki Walter, TEAM Bodybuilding.com Athlete
"Make your fitness goal your screensaver. A mobile consumer study conducted by Deloitte over the past three years found that Americans look at their phones an average of 47 times per day. Imagine seeing a really motivating image of your fitness goal nearly 50 times a day then using that motivation as fuel to get you off your coach. This is the updated version of 'Keep your eyes on the prize.' Because motivation is very personal your training is more likely to ramp up if the images is of something you are emotionally connected to…the thing that really drives you. For example, that could be a scenic photo of a mountain you plan to hike this spring," a photo of you running with your kids outside, or an inspirational quote.
— Liu Gross, Chicago-based certified personal trainer
(Here's how to meet your goals in 2018!)
Read the full article on ApartmentTherapy.com.