How to Get More Vitamin E in Your Diet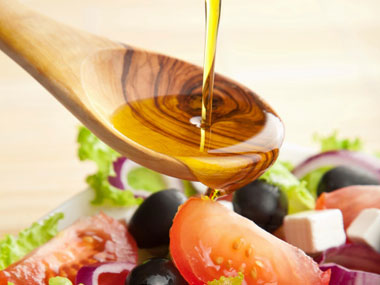 January 18, 2016 | Categories: Weight Loss & Nutrition
The powerful antioxidant vitamin E plays an important role in many body functions, but typical American diets may fall short.
Want to bolster your immune system for cold and flu season? Protect your skin from UV damage? Reduce your risk of certain cancers? Taking a vitamin E supplement might seem like an easy way to boost your intake, but many experts warn against it. Vitamin E offers real benefits when consumed in food, but supplements that isolate the nutrient have been linked to health problems, such as an increased risk of prostate cancer or cardiovascular issues if taken at high doses (over 400 IU) for long periods. The RDA is 22.4 IU for women and men over the age of 14. For the best ways to increase your vitamin E levels, eat more of these nutritious foods.
Drizzle on oil.
A variety of vegetable and seed oils are good sources of vitamin E. For instance, one tablespoon of sunflower oil provides about 28 percent of your daily recommended serving of vitamin E. Wheat germ oil, one of the best sources, packs 100 percent of the daily value.
Nosh on nuts.
Good news for nut lovers! One ounce of almonds—the best nut source of vitamin E—provides 34 percent of the recommended daily amount. Other winners: Hazelnuts contain 22 percent and two tablespoons of peanut butter pack 15 percent.
Read the full article on ReadersDigest.com.