How I Restored My Meditation Practice with an App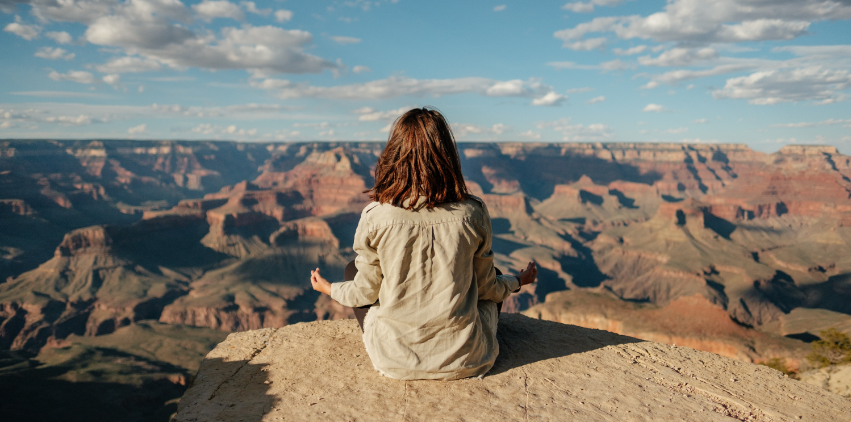 September 13, 2019 | Categories: Health, Mental Health
I've been meditating on and off since about 2009. I was looking for a tool to improve my concentration and liked the idea of learning how to be more "in the moment" instead of always worrying about what's next. These days, if you bring up meditation in conversation, you'll probably find someone in the circle who's meditating regularly or at least has tried it. And it makes sense: a 2018 study published by the Centers for Disease Control (CDC) found that the use of meditation increased more than threefold from 2012 to 2017. One reason that may be? There are a number of meditation apps that make meditating as easy as tapping a button.
To get back into the routine, I downloaded the Sharecare app – Dr. Oz co-founded the company – and used its meditation guides (Discover > Inspirations > Yoga & Meditation). My plan was to try it in the morning to see if it would set a calm and focused tone for the day as opposed to the way I historically used it to fall asleep. (Find out more about how meditation can help with sleep.)
What Can Happen When You Meditate for a Week
Day 1
After a night of not sleeping well, I woke up, made tea, and lay down on my living room couch to try my first morning meditation. I clicked on the "Relaxation and Stress" meditation option and practiced tuning in to my breath, while following the app's voice guidance. Although most guided meditation teachers and apps often tell you to sit up in a "comfortable seat" when meditating, I find that sometimes lying down helps me relax more. After five minutes of listening to this morning meditation, I felt less stressed about the lack of sleep I got the night before and the busy day in front of me. I also felt good about myself that I was starting up my meditation practice again.
Day 2
I bypassed the morning meditation (already on a great streak, Diana!) telling myself I'd do a meditation later in the afternoon. After doing a lot of freelance writing work and some painting of my home office with my husband, I lie down and meditate.
I decided to try the "Yoga Savasana" track. Yoga Savasana (also called corpse pose) is a pose of total relaxation at the end of a yoga practice. You lie flat on the mat, arms by your sides, legs extended, and practice relaxing and "softening" the body for about five minutes. It's my favorite part of yoga, so I thought it would be calming and restorative to listen to — even if I didn't nap. I eventually fell asleep for about 20 minutes, but it felt like I slept longer.
The meditation track lured me into a restorative nap and it felt wonderful. Since I fell asleep in the early afternoon, it didn't interfere with my ability to fall asleep later. I was glad I made time for meditation later in the day since I didn't do it in the morning. It was a reminder to myself that I didn't need to "skip a day" if the morning session didn't happen – there's still time later in the day! No wonder meditation is often used to help treat insomnia and address other sleep issues, according to the National Sleep Foundation.
Days 3 – 4
I decided to see if doing an afternoon meditation would help me feel less stressed and more energized during a busy work day with a lot going on at home (we had construction guys working on the house the past few days, too). I sat at my desk in a chair and put on the "Abdominal Breathing" track. The 5-minute session helped me feel calmer, but also reminded me that I was doing mostly shallow chest breathing that day until I took these deep abdominal breaths. I also appreciated the reminder to relax my neck and shoulders — something I need to do more of while working at my desk. I felt more clear-headed and focused when I returned back to work tasks.
The next day, I did the basic "five-minute" meditation lying down on my couch. (Again, ignoring the directions to sit up with a long spine.) I liked the introductory images of a beautiful river surrounded by lush green mountains. Even though you close your eyes during the meditation, it's nice to have a relaxing nature image to put me in the right frame of mind before getting started. I'm learning to draw the navel towards the spine on the exhale and it reminds me of when I used to practice Pilates. This was another simple meditation focused on breathing. I like that they are five minutes because they are done quite quickly and it's an easier way to start a habit since there really isn't a time barrier.
Day 5
I woke up and had to get ready to attend a family baby shower and start prepping our house for about 30 people coming over for a barbecue that night. In theory, a busy day filled with lots of socializing would be the ideal time to practice meditating, but I ended up skipping this day. That being said, I actually felt calmer than I normally would while having a lot of people over. I'm usually running around a bit more and feel like I have a lot of quick conversations, jumping from one person to another. Maybe the meditation was already helping me be more chill?
While I can't say meditation totally changed my life, I'm glad I kick-started a practice again and I never regret a session. I decided to put meditation as a "goal" in my Google calendar app and set it for 9:45 in the morning, along with a notification reminder to help me stick with it. Even if I skip a few sessions, I won't beat myself up. Like yoga, this is a practice that can feel different every time I do it. I like knowing I have this relaxation tool in my back pocket, ready to help me handle stress as it crops up and help me "reset" with my breath.
Read the full article on DoctorOz.com.