Exclusive Interview with UFC Bantamweight Champ Holly Holm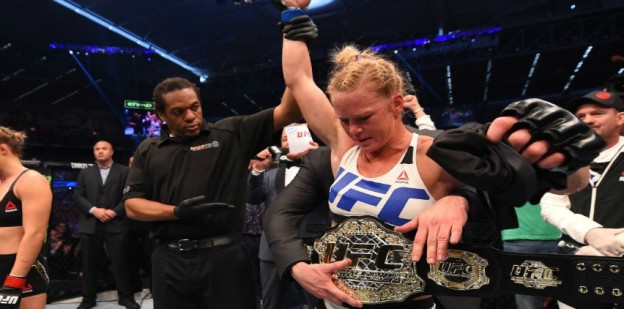 November 28, 2015 | Categories: Fitness
New UFC Women's Bantamweight champion Holly Holm was doing the media circuit in Manhattan one November Monday after her win and I was lucky enough to get a few minutes on the phone with the fighter in between morning show appearances on Live with Kelly and Michael and before Late Night with Seth Meyers. While the UFC world was shocked by Holm's one-sided beatdown of Ronda Rousey, it took Holm years of hard work and training to become an overnight success. Here's how she prepared for the biggest victory of her career thus far.
What's your training schedule like when preparing for a big fight?
Holly Holm: Monday through Friday every morning we have class and it's intense. They're pretty hardcore workouts. Monday there's MMA sparring, Tuesday is sparring, Wednesday is wrestling, Thursday is MMA day, Friday is wrestling, and Saturday I do sprint runs. So that's just the morning. Other than that I run five days a week with Saturday's sprint run being one of them. Monday through Friday four out of the five days I'm running distance as well. I do mitt work three to four times a week. I go back to either jujitsu or wrestling at night Monday through Thursday. I'm working out about four and five hours a day depending [on my schedule]. Sometimes it's more drilling; sometimes it's going hard. I usually am doing at least two to three hard workouts and the rest of the time it's technical drilling. Saturday I just run. The other runs I'm going slowly. I'm not training to be a runner; I'm training to be a fighter. When I sprint run I go as hard as I can. When I do distance runs I don't care how fast I go. I do it to keep moving, keep the weight coming down and just kinda cruise.
How will you balance the media obligations and staying focused on your training?
H.H.: Of course it's really busy right now, but not every week is going to be like this. There's going to be a lot of stuff coming up, but there's going to be a lot of stuff outside of the fighting, stuff that's required that I can say "yes" or "no" to. I don't want to get to the point where I feel like I owe everybody me and my time. I'm not owned by anybody but I want to be appreciative of the opportunity. We wouldn't have a job if we didn't have fans and we wouldn't have fans if we didn't have exposure that the media gives so I have an appreciation for it. It isn't something I want to go out of my way to do all the time, but I'm okay doing it because how would I be able to have a job and follow my dreams without it?
How do you mentally prepare for a big fight? What's the process of prepping to go in there and preparing to get hit?
H.H.: The whole plan is to not get hit. That's what I'm focused on. I spend a lot of time in the gym. The more I fear my opponent, the more time I spend in the gym. The more I learn the more confident I feel, which helps me feel more comfortable and not be overly anxious or be too nervous where I can't focus and perform. Hard work helps me to get through that.
Read the entire Q&A with Holly Holm on Muscle & Fitness's website!