What You Need to Know About Drinking and Bone Health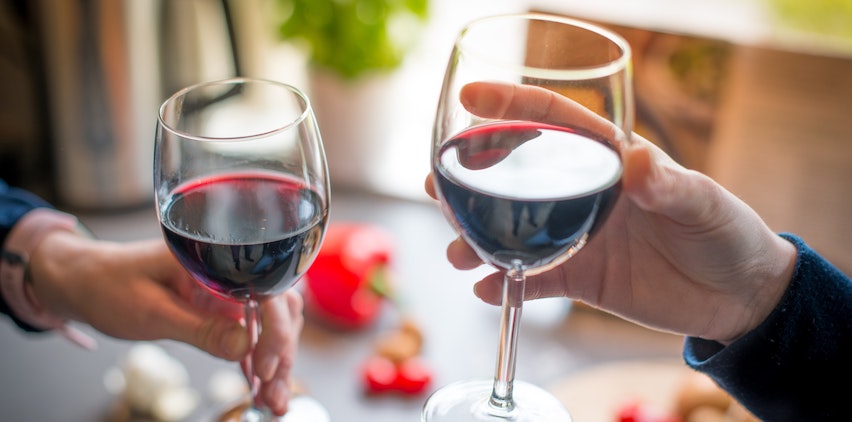 February 16, 2020 | Categories: Health
When it comes to how much alcohol is healthy for adults to consume, you may have heard the oft-stated recommendation that it's generally safe for most women to have one drink of alcohol per day and for most men to have drinks two daily. But if you have osteoporosis or low bone density (osteopenia), is it still safe to drink alcohol?
Osteoporosis is a degenerative disease that causes bones to be weakened and thinned to the point that they can fracture more easily. Alcohol can play a role in how dense bones are, the speed with which bone cells rebuild, and how your body absorbs important bone-forming nutrients. Alcohol consumption can be an important consideration when it comes to osteoporosis prevention and management.
You should talk to your physician for their recommendations about alcohol consumption and your specific health conditions, your health history, and use with medications you've been prescribed.
Here, learn more about considerations to keep in mind when it comes to the connection between alcohol and osteoporosis.
What You Need to Know About Alcohol, Bone Health, and Osteoporosis
Is Moderate Alcohol Good or Bad for Bone Health?
Depending on which articles you read, you may come across mixed headlines about whether drinking alcohol in moderation is good or bad for your bone health.
Some studies point out potential benefits of alcohol for bone health: A 2008 study in the American Journal of Medicine found that people who consume about one alcoholic drink a day had lower risk of hip fractures than abstainers. Earlier British research concluded that women over 65 who consumed more than five drinks per week had lower risks of vertebral deformity than those who had one drink per week.
However, much of the research on alcohol and osteoporosis risk is observational, which means that it can't conclude cause and effect. More recently, updated science has challenged the idea that drinking alcohol is "good" for bone health.
For example, an analysis of six studies found published in the journal Drug and Alcohol Dependence earlier this year found a positive relationship between alcohol consumption and osteoporosis — in other words, that alcohol was linked with greater odds of osteoporosis. The study found that compared with abstainers:
People who consumed 0.5 to 1 drink per day had 1.38 times the risk of developing osteoporosis.
People who consumed 1 to 2 drinks per day had 1.34 times the risk of developing osteoporosis.
People who consumed 2 drinks or more per day had 1.63 times the risk of developing osteoporosis.
The Challenges of Studying Alcohol Consumption
"Alcohol is very challenging to study and the variability of the results in these studies is most likely because most of the effects of moderate alcohol consumption on bone are subtle," says Russell T. Turner, PhD, a researcher at the Skeletal Biology Laboratory at Oregon State University in Corvallis, Oregon who studies how exercise, nutrition, and lifestyle interact to influence skeletal health. "If alcohol has any beneficial or detrimental effect, it's probably going to be over a really long term."
For one thing, alcohol consumption in many of these studies is self-reported. Study participants might have to think back on whether they had one drink a day or two over the past year, explains Dr. Turner. Their memory versus actual occurrence could lead to discrepancies. Then you have to factor in that the size of one person's alcoholic drink (like wine) may differ significantly from person to person.
Dr. Turner worked on a review of studies published in the journal Alcoholism, Clinical, and Experimental Research that found that light-to-moderate drinking might have beneficial effects on older adults by slowing bone remodeling, though he says that alcohol's effect on younger adults' skeleton and bone remodeling is less certain. "In people who are careful, moderate drinkers, then it's unlikely that [alcohol] is going to lead to any type of skeletal issue," he says.
In another example, a small study in the journal Menopause on postmenopausal women found that when women stopped drinking alcohol for two weeks, they showed increased markers of bone turnover (which increases the risk of osteoporosis). When the women resumed alcohol consumption, they had slower bone turnover. (Related: Which Cancer Screenings Women Should Get and When?)
"One of the big risk factors for osteoporosis in the aging population is elevated bone turnover," says Dr. Turner. "That influences the quality of the bone. This study suggested that in this population that some alcohol might be beneficial. Lowering bone turnover in a younger, growing person, however, may not be so good. So age may be an important factor," he says.
That said, "until we can do a controlled study and come up with a marker that shows how much alcohol someone has consumed, then one study's going to show a positive, another study's going to show a neutral, another study's going to show negative impact on bone health," says Dr. Turner. "The likely reason we're seeing this [variability] is that, in reality, there is likely not much of a positive or negative effect [on bone health] from moderate alcohol consumption."
Types of Alcohol and Their Affect on Osteoporosis
Some research has suggested that beer may be "better for bone health" than other kinds of alcohol because some kinds of beer have high levels of the mineral silicon. Research in the Journal of Bone and Mineral Research found an association between greater dietary silicon intake and higher bone mineral density in the hip.
Other research published in the American Journal of Clinical Nutrition looked at the bone mineral density of men and women, noting that among the subjects, men tended to drink beer and women preferred wine. The men who consumed one to two drinks of beer or alcohol daily had higher bone mineral density than non-drinking men. Postmenopausal women who consumed one to two drinks per day had a higher bone mineral density in the spine and hip area than non-drinking women.
The authors concluded that the "tendency toward stronger associations between [bone density] and beer or wine, relative to liquor, suggests that constituents other than ethanol may contribute to bone health." In other words, it may not be just the alcohol itself that plays a role in effect on bone health, but other compounds in beverages like wine, beer, and spirits.
However, more research is needed before experts are willing to concede that a particular type of alcohol is better for bone density than another. Far more important than alcohol type is simply quantity — and making sure you don't consume excessive amounts.
Read the full article on CreakyJoints.