6 Traditional Dishes That Taste Better When You Add Pumpkin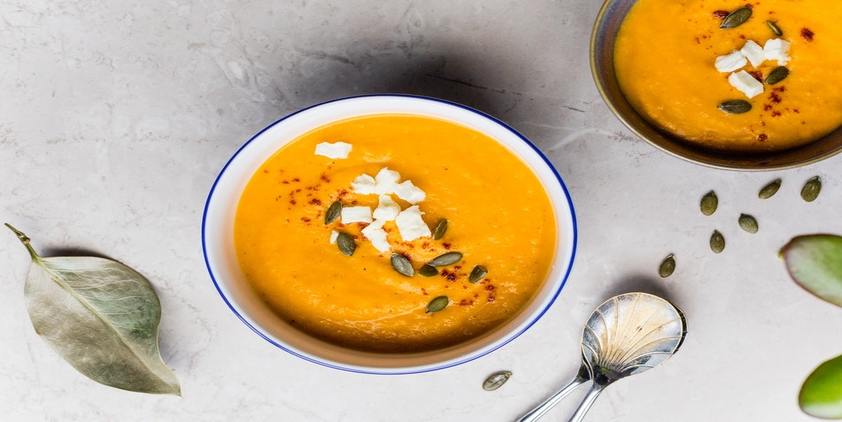 December 14, 2018 | Categories: Weight Loss & Nutrition
Pumpkins make festive decorations and are great for carving with kids, but they also add a punch of flavor and boost of nutrition to your favorite comfort-food recipe.
We talked to Bonnie Taub-Dix, RDN, creator of BetterThanDieting.com and author of Read It Before You Eat It – Taking You from Label to Table to get the scoop on the health benefits of pumpkin and flavorful ways to add it to your meals.
Although you might not think to look for it until the end of summer or early fall, canned pumpkin can be found in supermarkets in every season. Taub-Dix keeps these shelf-stable cans in her pantry to add to meals throughout the year. "I love using canned pumpkin to make muffins and pumpkin breads for my family," she says.
Pumpkin can punch up savory recipes like rice, pasta and soup, too; we'll show you how. Save room for dessert! Taub-Dix shared her favorite fall bread recipe with us. The best part? You don't have to feel guilty about enjoying a slice (or two).
Pumpkin is rich in carotenoids, which give this vegetable its vibrant hue, and can be converted to vitamin A in the body. "Vitamin A is so important for your skin and eye health," Taub-Dix. It's also a good source of potassium, which promotes proper muscle function and helps regulate blood pressure.
Additionally, pumpkins contain fiber, about 2.7 grams per mashed cup, which helps keep you feeling full, and promotes healthy digestion. "It provides fuel for your gut bacteria," Taub-Dix says. To keep your dishes healthy, choose canned, unsweetened puree or fresh, chopped pumpkin to add to recipes.
This fall vegetable isn't as carb-heavy as you might think, according to Taub-Dix, and it contains just 30 calories per raw, chopped cup. "To me, I think it's kind of like a super food that goes unrecognized," she says.
Don't forget about the seeds. These nibbles make a healthy snack that delivers protein and amino acids, Taub-Dix says. Clean the seeds, spread them on a sheet pan, add a touch of oil and your favorite seasonings, and roast until golden brown.
PUMPKIN AND WHITE BEAN SOUP
Beans are a great source of fiber and protein, and this particular variety offers 6.6 grams and 8.7 grams of each, respectively, per half-cup serving. This soup also comes together in fewer than 30 minutes, making it a perfect weeknight meal.
What you'll need:
1 ½ cups unsweetened apple juice
1 15-ounce can white beans, drained and rinsed
1 small onion, finely chopped
1 cup water
1 15-ounce can pumpkin puree, unsweetened
½ teaspoon cinnamon
½ teaspoon black pepper
¼ teaspoon salt
1/8 teaspoon nutmeg, allspice or ginger
What you'll do:
Mash or blend white beans, onion and water until smooth and set aside.
In a large pot, add pumpkin, apple juice, salt, pepper and spices. Stir.
Add the bean mixture to the pot and cook over low heat for 15 to 20 minutes, or until the soup is warmed through.
PUMPKIN MACARONI AND CHEESE
Macaroni and cheese is a kid's menu classic, but this version is perfect for adults. This dish offers the same cheesy taste you know and love with more vitamins and nutrients than the original.
What you'll need:
1 ½ ounces dry, whole wheat pasta
2 tablespoons low-fat cheddar cheese
1/8 cup pumpkin puree, unsweetened
1 ½ tablespoons nonfat or plant-based milk
1 teaspoon mustard
What you'll do:
Boil a pot of water and cook the pasta for 8 to 10 minutes, drain and let cool.
In a saucepan, combine pumpkin puree, milk and mustard and heat on the stovetop over medium heat.
Top noodles with pumpkin mixture. Sprinkle with shredded cheese and stir until well combined.
PUMPKIN RAVIOLI WITH MUSHROOM BROTH
The same feel and flavor of a fancy restaurant dinner in the comfort of your own kitchen? Yes, please! Creating your own pasta is simpler (and healthier) than you think.
What you'll need:
For ravioli:
1 shallot, minced
¾ cup pumpkin puree, unsweetened
¼ cup egg whites
2 tablespoons reduced-fat ricotta cheese
2 teaspoons fresh sage, minced
1/8 teaspoon ground nutmeg
Freshly ground pepper, to taste
Kosher salt, to taste
32 wonton wrappers, defrosted if frozen
Butter-flavored cooking spray
For broth:
3 cups fat-free, reduced-sodium chicken broth
½ pound assorted wild mushrooms, thinly sliced
2 teaspoons fresh ginger, grated
1 garlic clove, crushed
2 scallions, thinly sliced
What you'll do:
Coat a nonstick skillet with cooking spray and saute the shallot over medium heat until translucent. Remove from heat.
In a bowl, combine the pumpkin puree, egg substitute, ricotta cheese, sage, nutmeg, salt, pepper and cooked shallot. Set aside.
Place eight wonton wrappers on the counter and add a tablespoon of pumpkin mousse to the middle of each.
Wet the edges of the wonton and place another on top, pressing along each side to close. Place on wax paper and cover with a clean damp kitchen towel.
Repeat until all ravioli are complete.
To make the broth, combine the chicken broth, mushrooms, ginger and garlic in a saucepan, bring to a boil and simmer for 10 minutes.
Bring a large pot of lightly salted water to a boil, slide in half of the ravioli and cook for 2 to 3 minutes, until the ravioli rises to the top. Remove with a slotted spoon and cook the rest.
Serve four raviolis with three-fourths of a cup broth and a quarter of the mushrooms. Garnish with sliced scallions.
PUMPKIN PEANUT BUTTER SANDWICH
Peanut butter and pumpkin together? Yes! And the best part is that it actually tastes delicious. Fans of PB and banana sandwich will enjoy this fall twist on a classic lunch.
What you'll need:
½ cup canned pumpkin puree, unsweetened
½ cup creamy or crunchy peanut butter
4 slices whole wheat bread
1 medium banana, sliced
What you'll do:
Combine pumpkin and peanut butter in small bowl and mix together with fork or spoon until well blended.
Spread 1 tablespoon pumpkin and peanut butter spread on each slice of bread.
Lay banana slices on 2 sides of bread. Top with second slice of bread to make two sandwiches.
PUMPKIN RISOTTO
Pumpkin puree turns this Italian classic into a fall favorite in by blogger Francesca Montillo's recipe. This autumn squash adds fiber, vitamins and minerals to the cheesy rice dish. It might become your family's new favorite comfort food!
What you'll need:
5 to 6 cups of vegetable stock made from vegetarian bouillon cube
1 small onion, finely chopped
3 tablespoons olive oil
1½ tablespoons butter
1 cup Arborio rice
1 tablespoon parsley, chopped
½ cup dry white wine
2/3 cup freshly grated Parmigiano Reggiano cheese
½ cup pumpkin puree
Salt to taste
What you'll do:
In a medium soup pan, bring 5 to 6 cups of water to boil. Add one large vegetarian bouillon cube and allow to fully dissolve. Reduce heat to low and keep stock warm.
In a large saute pan, add onion, butter and oil and simmer over medium heat for several minutes.
After the onion is translucent, add the rice and saute for several minutes. Stir the rice to coat with the oil and butter mixture and add parsley.
Add the wine to the rice and cook until the wine has dried up; this will take just about one minute.
Next, add one cup of stock to rice. Allow rice to absorb stock before adding the next cup.
Continue the process of adding one cup of stock until the rice is almost, but not fully cooked. It should be tender but firm. This will take 18 to 20 minutes.
Add pumpkin puree to the rice and stir well so the pumpkin is evenly distributed. Cook an additional 2 minutes, until the pumpkin is heated thoroughly and flavors have been well blended.
Remove from heat and add grated Parmigiano Reggiano cheese. The risotto is best served immediately.
AVOCADO PUMPKIN BREAD WITH DARK CHOCOLATE CHIPS AND ALMONDS
Bonus recipe! This recipe from Taub-Dix is a family favorite. You can also turn it into muffins for smaller, on-the-go portions. Recipe makes two loaves of pumpkin bread.
What you'll need:
1 cup whole wheat pastry flour
2 ⅓ cups all-purpose flour
1 tablespoon baking powder
2 teaspoons baking soda
1 teaspoon salt
1 teaspoon ground cinnamon
1 ¼ cups granulated sugar
2 large eggs
4 egg whites
½ cup plain, nonfat Greek yogurt
1 ripe avocado, peeled, seeded and mashed
1 teaspoon pure vanilla extract
⅔ cup original almond milk, unsweetened
1 15-ounce can pumpkin puree, unsweetened
½ cup dark chocolate chips
⅓ cup slivered almonds
What you'll do:
Measure level cups of flour into a medium bowl and whisk with the baking powder, baking soda, salt and cinnamon. Set aside.
Combine sugar, egg whites, avocado, Greek yogurt, vanilla extract and eggs in a large bowl and beat with a hand mixer at a high speed until blended.
Add almond milk and canned pumpkin to liquid mixture, beating at a low speed until combined.
Add flour mixture to wet ingredients and beat at a low speed just until combined (don't over mix). Fold in chocolate chips.
Coat two 9×5-inch loaf pans with cooking spray, and spoon in batter to fill halfway. Sprinkle almonds evenly over top.
Bake loaves for 1 hour or until a wooden pick inserted in center comes out clean.
Cool in pans for 10 minutes and then remove from pans and cool on wire rack.
Read the full article on Share Care.