Podcasts That Help My Freelance Business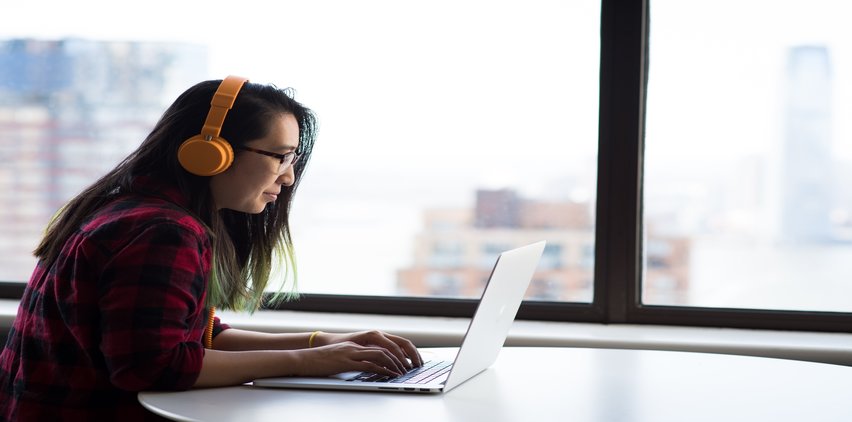 November 6, 2020
When I need a break from writing freelance articles, interviewing sources and emailing editors and clients, I love to listen to freelance writing podcasts as well as a few other categories. I'll go on a walk outside (usually with the dog) and listen to a podcast that teaches me something or gives me fresh insights into a new topic.
I used to mainly listen to podcasts in the business, personal finance, or productivity, and health genres, but, as the podcasting world has grown (ad revenue is expected to have 1,000% growth by 2020!) I add more podcasts about freelancing, content marketing and the business of freelancing when I find some I like.
Listening to podcasts for freelancers while walking my dog or running errands and driving helps me feel productive, and I try to pick up some interview tips from the podcast hosts.
If you'd like to learn more about how I got started with freelance writing and hear some of my best freelance writing tips for success, listen to the podcasts where I appeared as a guest, including Wellpreneur and Alex Cespedes' Or So I Thought podcasts. Want to chat about having me on your podcast as a guest? Reach out here.
Podcasts for Freelancers This Freelance Writer Recommends Listening To
(Updated October 2020!)
Productivity guru Laura Vankerkam shares "bite-size" tips to help you start your day off on the right foot. In a 5-minute or so podcast, she'll address new habits, productivity tips, organizational insights and much more. I like that it's a feel-good way to start the day and this podcast for freelancers provides me with advice I can take action on that day. Get Vanderkam's morning habits and those of other organized people here.
Freelance writer and coach Ed Gandia interviews freelance writers and various freelancers to learn about their successful careers, how they got to where they are now, and their advice for other freelancers. I love hearing about the different types of freelancers out there, as well as hearing that they have some of the same challenges and struggles I do. If you want to learn more about business writing as well as how to find high-paying freelance clients, Gandia's guests have good advice on how to do that.
Personal finance journalist Jean Chatzky interviews male and female authors, entrepreneurs and personal finance experts about business and money topics. These personal finance podcasts usually drop on Wednesdays and include their 'mailbag' reader questions at the end of the podcast. I get ideas for personal finance topics and potential article sources to interview for future articles while listening.
Dave Ramsey is a personal finance guru known for his aversion to debt. While I enjoy hearing Ramsey's personal takes on the financial news and current events, I'm most entertained by hearing callers' personal stories. Listening to anecdotes that run the gamut from divorce, death, losing a job, and trying to pay off tons of student loan debt from every corner of the country makes me feel very grateful for my own life and that I get to be a freelancer working a job I love that pays well. It also helps me stay focused on my financial goals and often keeps me from winding up in a store while on a walk! I also find it inspiring to hear stories of triumph about families with small children and one income buckling down and paying off debt, building up savings, and feeling relief once they get a handle on their personal finances. (In this article, I interview Ramsey's daughter, Rachel Cruze, and other personal finance experts about how to reach your money goals.)
I'm a big fan of the personal finance podcast genre and enjoy financial journalist and author, Farnoosh Toorabi's So Money podcast. She has interviews with experts (usually women) in the personal finance space and I find new, inspiring women to follow, businesses and books I want to read, and learn a lot about investing. More female-led personal finance podcasts I've been enjoying? Afford Anything with Paula Pant, who addresses smart money decisions to make to help you lead your best life long term, and The Financial Grownup podcast with certified financial planner, Bobbi Rebell. Although these might not seem like podcasts for freelancers and podcasts for content marketers at first glance, I'm a strong believer in having a solid financial foundation in order to run a successful six-figure freelance writing business.
Also on my top freelance writing podcasts for freelancers' list?
Melanie Padgett Powers' Deliberate Freelancer Podcast
The Writer' Co-op Podcast with Jenni Gritters and Wudan Yan
The Marketing Mentor Podcast from Ilise Benun
Wellness Unedited from Mercey Livingston
I hope this is a start for your list of best podcasts for freelancers to listen to.
Which podcasts for freelancers and freelance writing podcasts do you listen to?
Learn how you can become a full-time freelance writer or start freelance writing as a side hustle after enrolling in and taking my e-course, "Get Paid to Write."
Sign up now and you could have hundreds of dollars' worth of assignments within the month!
Tags: article ideas, article writing advice, content marketing, how to make more money, podcasts, podcasts for personal development, productivity, side hustle, six figure income, six-figure freelancer, work from home