5 Tips to Make More Money Freelancing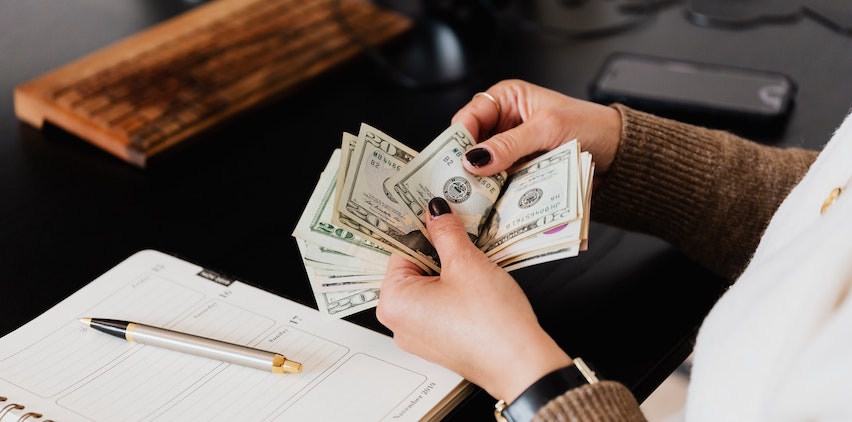 May 29, 2022
If you're a freelance writer, making more money freelancing is probably top of mind for you. Whether you're a full-time freelance writer, a small business owner, a stay-at-home mom (or dad) who wants to make additional money working from home while the kids are sleeping or at work, or you simply want to make more money freelance writing than your salary allows for so you're trying to earn money with a side hustle—this blog post is for you.
In order to have more money in the bank at the end of the year, follow these tips to build up your savings and reach your income goals and make more money from home. (For more tips on how to set and meet your freelance goals, check out this blog post.)
5 Pro Freelance Tips to Earn More Money (In Less Time)
1. Cut your business expenses.
Are there places in your business where you could buy in bulk and save money? Are you justifying expensive dinners out with editors and freelance friends because they are business write-offs? Are you a member of a lot of professional organizations you're not using but paying an annual fee? Look closely at what you're actually using on a daily basis and how much money you're spending that you are telling yourself it's justified because it's a business expense. Do a self-audit of places in your budget where you can save $10 a month here and there. (Try this 1 change to improve your freelance business.)
> Quick tips:
I canceled my online New York Times subscription because I honestly wasn't reading more than the free articles offered monthly. I'm reading a number of sources online to get my information.
Look at your cell phone plan to see how much data you're using monthly and if you could trim back to a lower data plan.
Use the library or buy used books. I'm a big advocated for working in the library (it also saves me money instead of going to a coffee shop), but my local library has a wide variety of magazines I can borrow and I put in an online request for books I want. I also like to peruse establishments that sell used books—like the Housing Works Café in NYC, Salvation Army, GoodWill, eBay or Amazon. I would caution you that if you're buying "freelance writing" books that are older than about five years, many of the tips might be irrelevant or obsolete.
Note here: As a journalist and freelance writer, I'm not saying 'Don't buy newspapers, books, or magazines ever!' I'm encouraging you to look for places where you could save money. Find that you love reading Real Simple at the library and want to refer to those tips later and tear out pages? Then subscribe to the magazine! Read a book at the library and want to keep it on your shelf for future reference? Buy it! Just look for places where you can trim the fat and spend money on what you really want to use in your life. My library (and Amazon Prime) offer magazine subscriptions I can browse each month.
(I just saved you about $350/year if you make these swaps! Reinvest that money to learn skills on how to make more money freelance writing with my self-directed e-course "Get Paid to Write" — only $97!)
2. Manage your time better.
Learn your most productive work style in order to make more money freelancing. I realize that if I get up a little bit earlier, finish my deadline that's due that day first, and then start perusing social media and replying to emails, I am more efficient the rest of the day. When you want to make more money at the end of the year (like earning a six-figure freelance income) and you don't want to sacrifice your free time or sleep, becoming more efficient will equal money later. Getting my toughest assignments done earlier helps me juggle multiple clients better. Your most efficient time might be at night after your kids have gone to sleep, or if it's quiet at home during your workday. Identify a few hours during the week that you have the energy and motivation to crank out work and consistently utilize those. Freelancers share the BEST time to write.
3. Buy in bulk and save.
Are you paying for a monthly service that would be cheaper if you pre-pay for six months or a year? (I subscribe to some services that do!) Does your small business require supplies that you could save money on cost and shipping if you stocked up in advance? Examine your monthly expenditures and see if there are places where you could save money. Consider calling a vendor you work with and asking if they could give you a discount if you pay in advance for their services and products, or if you could get a discount if you pay in cash. Everyone loves cash! These are ways you can cut costs and build up your freelance savings. Also, make sure you're trying out various types of freelance writing in order to make money.
4. Secure repeat freelance clients.
Many freelance writers and freelancers in general that I know have had plenty of clients come and go. It's the nature of the business. But if you can get a contract with a client for ongoing work, you'll make more money in less time freelancing. I love working with new clients, but getting set up with the paperwork, investing time to learn what they want, nailing their tone and voice, and getting paid in the beginning takes hours. Do that for 20 clients a month and you'll be spending a lot of time on research and admin work and not as much on writing or turning in assignments. I think it's great if you have a "reach" client, high-paying freelance niche, or outlet that you want to write for and getting published by them or working together is one of your goals. But remember to look at the clients who are giving you steady, repeat work for a solid pay rate and see if there are more assignments you could be doing with them. Here's how to find better-paying freelance clients this year.
5. Pay people to help you.
When I decided to create my own Freelance Writing Online Course on Teachable, I enrolled in Inkwell Editorial's course on how to create an online course. She already did a lot of the hard work with research into processes that help launch a course and ones that don't work. Course instructor Yuwanda Black also had valuable marketing tips and customer service advice I hadn't considered until I read it in her course materials. It was worth paying for this advice rather than making mistakes on my own. I also tried to make some updates to my website over the years and then realized I needed someone who knew Wordpress and design better than I did, so I paid a freelancer an hourly rate to help out. (During that time, I was working on assignments and generating income.) I occasionally use transcription writing services to help transcribe interviews I just conducted.  I've hired several virtual editorial assistants to help with different freelance tasks, like research, social media, strategy, LinkedIn strategy help, copyediting, and more. This helps me spend that valuable time doing things that only I can do. (P.S. This is how many hours freelancers work each week.)
What steps will you take to make more money freelancing this year and have more money in the bank at the end of the year?
Tags: article ideas, content strategy, freelance rates, freelance writer, freelance writing, freelance writing course, making six figures freelancing, productivitiy, side hustle, work at home, work from home, writing rates