3 Ways to Come Up with Ideas for a Stale Topic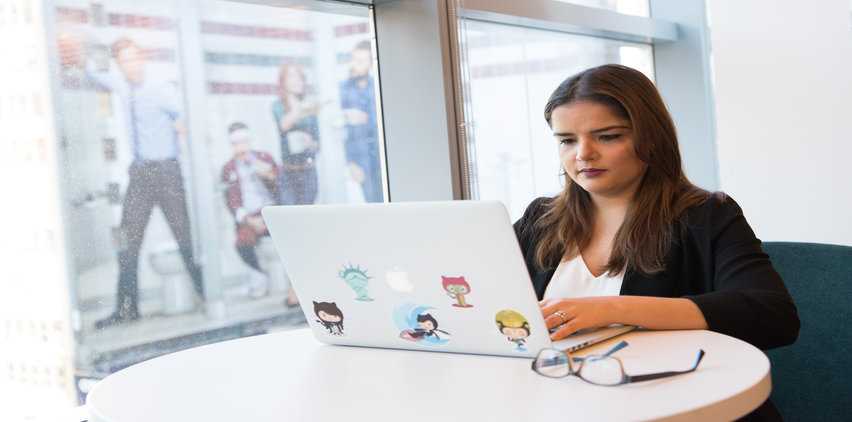 September 17, 2018
This freelance writing post is courtesy of a friend of mine who works in public relations writing. Since she is often tasked with coming up with new topics in niche areas–and ghostwriting in one person's voice–I thought she'd be a great resource for freelance writers and content marketing writers. Enjoy!
I've known Diana for more than 15 years and we often talk about this passion we both share—writing.
But I'm not a freelance writer—I am a public relations writer, which means I am often the "ghost" behind the CEO, SVP, or other type of client who carries the byline to my piece of writing. While it sometimes is tough not getting the credit, I'm proud to do it, because with the power of writing, we help establish brilliant people as thought leaders within their key industries. Writers like me help them communicate their thoughts and perspectives in ways they could never convey on their own, or have time to do.
In my career, which has spanned both agency and in-house positions, I've always kept in mind a few tricks for the days when I'm feeling less than creative, or that I've just said all there is to say on a given topic. Sometimes I sit in front of a blank Word document just wondering—OK, how am I going to pull this assignment off? How am I going to make this something that people will want to read?
So, join me as we push that little negative voice out of our heads with these three tips.
(Try this trick for coming up with new article ideas.)
Be a Good Listener
The interesting part about being a ghost writer is that I'm not writing in my voice, I'm writing in the subject matter expert's voice. What better way to get into that headspace than to hear from the expert themselves? This can be directly or indirectly—meaning scheduling a phone call or face-to-face with them is great, but I often get more out of hearing them present at a conference or sit in on a webinar they are leading. I like the latter option because I can take lots of notes, take photos of their PowerPoint slides for future reference, or even listen to their webinars multiple times to make sure I understand the concepts. This is especially helpful when I'm writing about a complex topic that I'm not already familiar with. Plus, gleaning just a few new words and phrases from them can spark an idea for your whole article angle. One time, an expert just said the word "grocerant" during a webinar and that got me thinking about how I could dissect this catchy mash-up buzzword, which means a restaurant experience housed in a grocery store. Here are signs you're a terrible listener.
Tap into Social Media
True story—I was recently tasked with writing about blockchain, which is a new kind of data sharing technology that my industry is very excited about. I write about this topic quite frequently and in order to keep it fresh, I spent some time on Twitter and LinkedIn to tap into what latest opinions are circulating. I had instant access to dozens of industry analysts, CEOs, and reporters who openly shared what they were thinking about blockchain—how long before the technology matures, whether or not it was overhyped, key stats about adoption, etc. Always remember that while social media is fun and entertaining, for business, it is a perfect platform for anyone to pontificate instantly about anything they want! It is always useful to know about the public discussion, especially when you are asked to provide commentary and take a definite position on a given topic. Based on what I learned on Twitter, I was able to balance "popular opinion" with the position of our expert. (Here's how freelancers can use social media to get ahead.)
Try "Not Writing"
A great mentor once told me that "not writing is as important as writing." What this means is taking a break can give you clarity when you return to your desk. If I've set aside a day for finally tackling that article I've been putting off all week, that day will likely be peppered with walks outside, brief chats with my friends, or a workout at lunch time. One time, I actually worked in a Saturday Night Live reference into an article after talking with a friend about Weekend Update. It happened to be extremely relevant to the topic of online shopping, which was the area of specialty for the VP that I was writing for, and she loved it. I suppose a creative mind can't really happen in a vacuum—be open to outside influences and experiences because your brain will churn that up interesting ways. Also, when I finish an article, I "let it rest" like a juicy steak that has just come off of a grill. Walk away and come back to it a few hours later. You can catch mistakes and find ways to improve it with fresh eyes before calling it final and sending it off to an editor.
What you've probably gathered from these tips is that there is no such thing as a stale topic. By doing your homework and forcing yourself to look at something in a new light, you can surprise yourself with what you can accomplish.
What are some ways you stay motivated? Share your tips below!
Are you a public relations writer or publicity writer who's always wanted to try freelance writing? Learn how to do it in 10 steps with my course "Get Paid to Write."
Tags: business, content marketing, content strategy, creativity, freelance writing, ghostwriting, productivity, social media, time management, work from home, writing tips